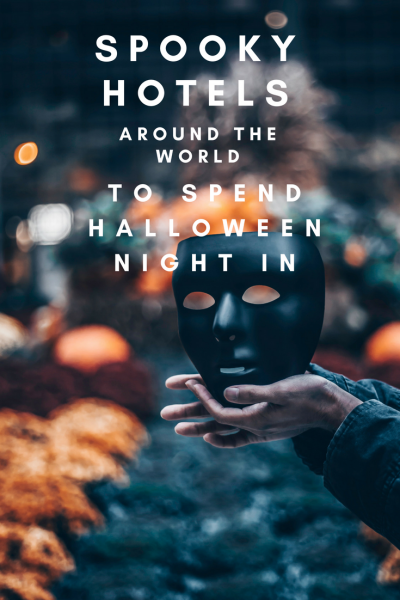 Wondering where to spend the spookiest of spooky Halloween nights this year? We've got you!
We've put together a list of some of the world's most haunted hotels for you to add to your Halloween bucket list. Whether spending the night wondering if those creaking footsteps walking back and forth in the halls of Bunchrew House are a product of your imagination or barely getting any sleep at the hotel that inspired The Shining by Stephen King – you're guaranteed a memorable stay – if you survive the night, that is.
The Stanley Hotel, Estes Park, Colorado, USA
What could be more spooky than a hotel that actually inspired Stephen King's novel, The Shining?
Widely known as being one of the world's most haunted hotels. The Stanley Hotel was opened in the year 1909 by the Stanley Family. Once in a while, guests are struck when they hear a piano in the music room playing itself – or is it the spirit of Mrs. Stanley playing?
Throughout the hotel's history, every single room has been the hub for paranormal activity. Whether it's items moving themselves on their own, lights turning themselves on and off, or the sound of giggling children filling the air, there's something extremely spooky about this luxury hotel in Massachusetts.
Cecil Hotel, Los Angeles, USA
Cecil Hotel has been witness to several mysterious suicides since the 60's, and nobody is exactly sure the spirits of people who decided to end their lives here ever actually left. The hotel's tragic horror stories inspired the 2015 season of American Horror Story, putting the spotlight on this hotel and onto everyone's Halloween bucket list.
Bunchrew House, Inverness, Scotland
As a heads up, don't let the pink facade of this hotel fool you into thinking it's one of the many fairytale-like castles that Scotland boasts.
Set in the Scottish highlands, this gorgeous castle was built in the 17th century and is now believed to be the home of Isobel Mackenzie, a ghost who loves roaming the halls of the castle. Although the hotel's website claims Mackenzie is a friendly ghost with no hidden intentions other than to have a bit of fun pranking guests, a stay here is just for the brave ones out there.
Langham Hotel, London, United Kingdom
Considered one of the most luxurious hotels in the English capital, Langham Hotel has been host to some of the world's most prominent figures, including Princess Diana and Oscar Wilde.
Aside from its 5-star rating and unparalleled luxury, the Langham Hotel is also known for being one of the most haunted hotels in London.
According to stories from guests, including famous English cricketers, the ghosts of Emperor Napoleon III, a Victorian woman, and a German prince who committed suicide at Langham roam the halls of the hotel, and they especially love hovering over guests in room 333.
Foxwood House, Johannesburg, South África
Although lovely-looking, this historic mansion in South Africa is believed to be ground zero for ghostly activity. Guests have reported hearing footsteps walking up and down the staircase and seeing a ghost-like woman standing in the balcony with a child in her arms.
Ballygally Castle, Lorne, Northern Ireland
Once upon a time, this gorgeous castle was home to Lord Shaw and his wife, Isobella. Soon after giving birth to her son, Lord Shaw locked Isobella up inside a room. One day, as she tried to escape, Isobella fell down from the room's window and died.
Numerous guests have reported hearing footsteps and cries from a woman. Legend has it that Isobella still roams the castle in search for her lost son.