SPOILER ALERT! DO NOT PROCEED IF YOU'D LIKE TO BE SURPRISED WHEN YOU SEE THE MOVIE!
Sometimes you have preconceived notions about a celebrity….and when you meet them they are SO different then the stereotype you had thought they were. So it was with Mila Kunis.
MILA KUNIS: When did this start happening? This Mommy Blogger thing?
CL: For about 2 ½ years now
MILA KUNIS: This is the first time I've ever had this happen. Why?
CL: You've never done a family movie before.
MILA KUNIS :    I've never done a family movie. This is very true. Touché.  I've never done a non R rated movie. This is the sweetest thing I've ever seen. Come on ladies…first question…
CL  : Which character did you like playing more…Theodora or the wicked witch?
MILA KUNIS:    Truth is I do find that it's the same character, I really do.  I think it's just a woman scorned and it's a character that goes through a transformation, an emotional transformation of a heartache and just so happens to transform in color but I think that the deep rooted aspect of it is just, you know, a broken heart so I think it's the same thing.  It was fun to play both, for sure.
CL:    How was it getting in to that makeup?
MILA KUNIS :    I think the beginning process was four hours and by the end a little under two. Putting the makeup on, not a problem.  Taking the makeup off, every night it makes your face swell. Like it legitimately puffs it up.  If you imagine whipping your skin every day, that's what it does and it's a full prosthetic piece.  I had two pieces and it's the bottom part and then the nose and the eyebrows.  And it doesn't matter how gently Howard did it, you rip the skin.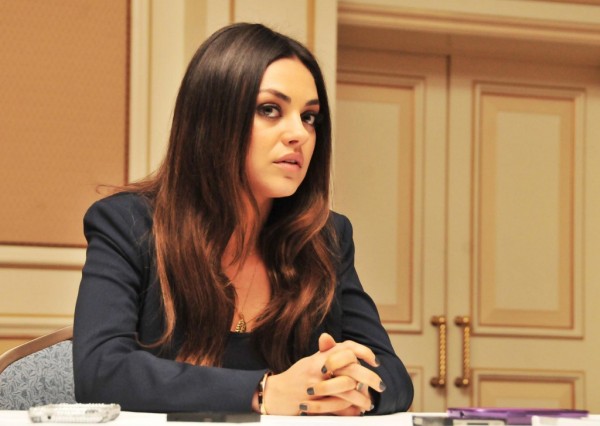 CL:    What was your experience with Oz as a kid?
MILA KUNIS :    I came to America when I was seven and a half in '91.  I think the first full length book in English that I read was Return to Oz at nine years old.  I've spoken about this completely independent of this movie prior to ever being attached to this film that as a kid the first movie that I remember seeing was the Wizard of Oz.  I think just visually the color, the spectrum of it and how fantastical it was and how much you wanted to live in that world, for a nine year old was so magical and so grand so I have the greatest, fondest memories of it.
 CL :    How did you feel getting into this evil character?
MILA KUNIS :    Nothing different.  I mean, you know, she's a young, naïve girl who gets her heart broken and then grows a nose.  Like everything kind of happens independent of me, just adds on to the fantastical element of it.  I think, you know, truthfully it's just a girl who gets her heart broken like I said earlier. I really don't find her to be any different. You can put her in a romantic movie, you can put her in a non-romantic film.  A girl gets her heart broken. This one has a negative side effect. She takes a bite of an apple and things go wrong.
CL:    What was your favorite scene?
MILA KUNIS :    I think appearing in Glinda's castle is really fun for me just because it was an extra day to shoot. It was a long day.  If you asked me while I was there I probably would have been miserable but, it was really fun to do because I got to work with Michelle and I never had anything to do other than that one scene and we really wanted to work with one another and that was our one and only opportunity to do it.
CL :    At the beginning of the movie did you think she was good?
MILA KUNIS :    Yes, I do think that she had to have or it doesn't make sense as to why she would trust her sister and I can't believe I'm talking about this, in biting the apple.   I do think that she had to think that her sister was a good witch and that Glinda the good witch, is theoretically the wicked witch.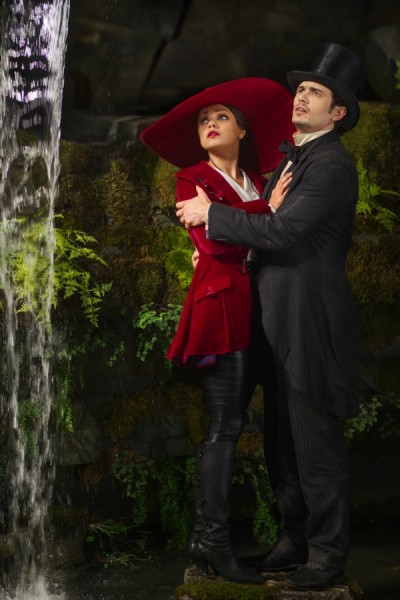 CL:    Did you like the technical aspects of the film?
MILA KUNIS:    You know what? It actually wasn't so hard. I mean I think people prepared me for like a lot of green screen.  I didn't have a lot of green screen.  They built most of the sets.  When this castle was tangible, Emerald City was tangible, the forest, the woods was tangible, the cemetery, everything was there. So, it's not like I had to imagine things, and as far as wire work goes, I had fun with it.  The next project that I'm doing is a lot more wire work so I'll let you know after that one but in this one it was really fun, yeah.
 CL :    Do you feel in a different place with fans?
MILA KUNIS  :    I hope so. I don't know.  I'll let you know when it comes out.  I come from television where I feel like I'm in people's living rooms every day.
CL:    Tell me about working with the cast.
MILA KUNIS :    James and I, I think counted, it's our eight movie together, so he doesn't count.  We're stuck with one another.  Rachel and I had a fantastic time. we had so much fun, and Michelle and I literally get to do one thing together and we are dying to work more.  We all had a great time and Detroit was really fun, FYI, in case anybody wants to go to Detroit.  I love it. I did.
Thank you to Mila Kunis for this FUN interview.
I wish that I could have uploaded the audio interview that I have on my phone, as you'd get some of the other fun comments she made. She is absolutely endearing!
Oz The Great and Powerful opens on March 8, 2013.
 Want  more information? Follow:
This post was facilitated as a result of a press junket. All opinions are strictly my own.