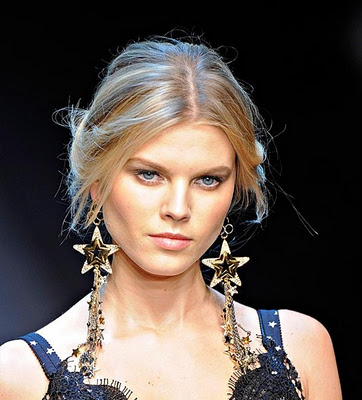 The Bigger The Better
Designer after designer used statement jewelry this season, as earrings, necklaces and bracelets all went over the top. Bigger doesn't necessarily mean fussier, as Chanel, McQueen, Hermes and Celine's jewelry were all more simplistic in design in comparison to Dolce and Gabbana's tasseled creations and Christian Dior's jewel encrusted necklaces.
At Dolce and Gabbana, their colorful summery jewelry were show pieces all by themselves, filled with tassels, ribbons, pompoms to shoulder length. Paired with fabrics and accessories just as exquisitely detailed, the earrings made an impact in sync with the entire outfit and overall uplifting summer holiday experience.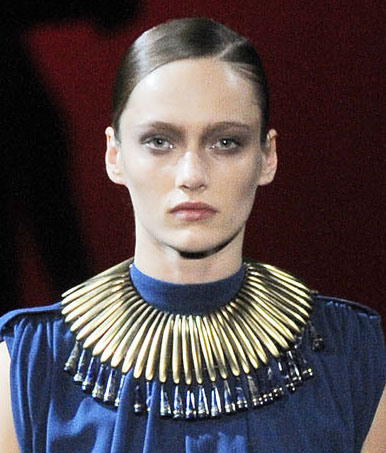 Etro's cleaner cut jewelry was just as big and striking, but approached with a more minimalist aesthetic. Using shiny silver and large uncut, sparkling geode stones, as well as color block chandeliers, the jewelry at Etro was paired with a more minimal style, geisha girl meets sports luxe.
Gucci's Milan show was full of bright and beautiful colors, something that was seen in the jewelry too. Intricately ornate but big in bold color, often the same colors or tones as the fabric, the jewelry provided interest for the high necks and simplicity of the looks, occasionally slipping onto the outfits as embellishment.
Chanel's iconic string of pearls was updated for this season by using clusters of very large pearls along with smaller ones. Pearls were a theme of Lagerfeld's show as he stripped everything back to simple black, white and pearls. They were clustered around necks and wrists, and dotted on to column dresses, the iconic Chanel jacket and used as buttons. If you're a Chanel girl, stick with your pearls this season but pile them on in gigantic form.
Sarah Burton for McQueen was on top form with her beekeeper themed collection, and her jewellery was no exception. Large bee-covered tortoise shell chokers and metal jewel-encrusted chokers covered almost the entirety of the models necks, and big cuffs encased their wrists.
Celine's big black leather knotted cuffs are the ultimately minimal way to embrace the super-sized jewelry trend. Seen around wrists as well as necks, the knotted style was featured on the front of outfits too, so if you're not into flashy, over the top jewelry then this is the way to wear it.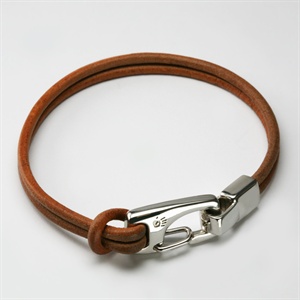 If you are, however, looking for bespoke jewelry that is on trend and makes a statement that will last for seasons to come – check out the likes of Stephen Einhorn London – their cutting edge art-jewelry is created with state of the art techniques and their Men's Jewellery range is  worn by some of the world's most famous men – such as Johnny Depp –  so you can guarantee to be in good company with this stunning jewelry range.