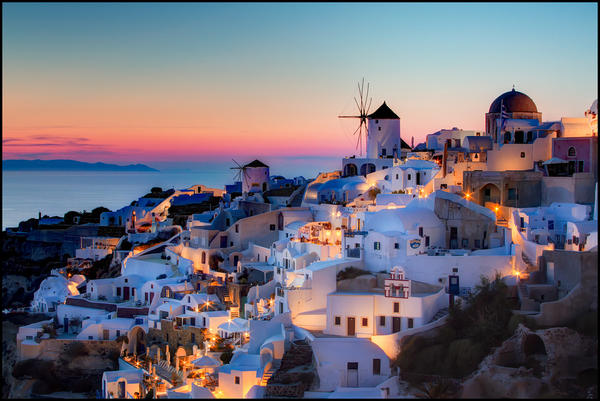 Many people choose Spain and its many islands (Majorca, Ibiza etc.) as their exciting vacation.  I've been and I can tell you first hand that Spain is a great place to visit (Ben and I drank our way through Jerez de la Frontera a few years ago – tasting Sherry), many people overlook Greece.
Just for fun, I've compiled a list of the top three reasons why Greece is a better holiday destination than Spain.
5. Greece has Temples!
The ancient temples that are dotted around Greece are a tribute to the ancient Greek gods. They are incredibly impressive, varied structures, many of which are still standing and in beautiful condition considering that they are roughly 25 centuries old.  Round column pillars are a central feature of all temples, and they are an impressive feat of architecture, even today.
4. We Owe Greece for our Language
English is absolutely full of Greek borrowings, either directly from Greek, or indirectly through Latin.  Some common phrases are:
Academy
Marathon
Alphabet
So you've been speaking a little bit of Greek without even realizing it for all this time.
3. Love Digging up the Past?
Aside from the temples, Greece has the highest number of archaeological museums than any other country in the world.  This means that if you have a penchant for ancient history, Greece should be the destination for you.  Spain has very little in the way of this sort of entertainment.    
2. Greece is Home to the Olympics
The first Olympics Games took place in Greece in 776 BC. The first winner of the games was a cook named Coroebus, who won the sprinting race.  Sport is incredibly important to the Greek people, and as well as their Olympic heritage, Greeks are also hugely into football – their national sport.
1.     Greek Food is Incredible
Although Italian cuisine is generally touted as the Mediterranean food of choice, Greek food is equally delightful.  Crumbly, creamy feta cheese, rich, golden olive oil and hearty, sun-drenched casseroles are all things you can expect to enjoy when you visit Greece.  You'll die and go to heaven when a plate of traditional Greek food lands in front of you on a warm summer's evening.
The five reasons above are only the tip of the iceberg, however.  If you want to explore Greece to its full potential, you could explore the exciting deals available on sites like Air Holidays.