I tasted the product in this box at an event, and was given one to take home on my way out. I was not asked to write about it, but I just HAD to…it was too good to keep to my self. All opinions are strictly my own.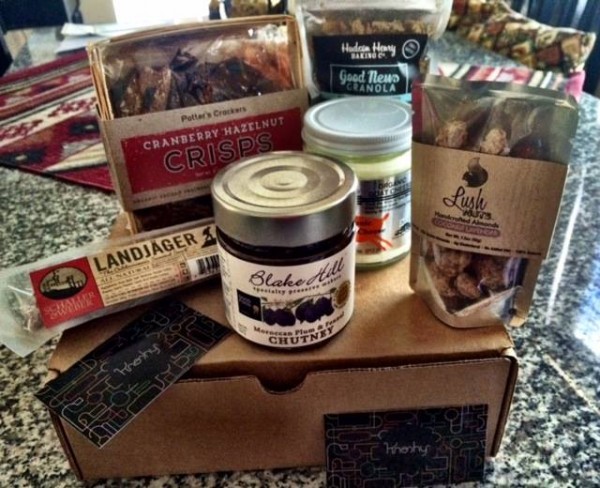 I know you've seen them here before. Those subscription boxes filled with deliciousness! The ones that I usually write about are themed to destinations around the world….but what about right here in the USA? Until Knoshy, there really hasn't been anything that sent a taste of Artisinal America to your door. The closest you could get was trekking out to the nearest gourmet shop and HOPING that you could find something authentic to try.
I have to admit, that I hadn't heard of this fab food fix that is delivered directly to your door before last week. Thankfully, I ran into my old friend Sara, and she set me straight…or rather she enticed me to try  a Cranberry Hazelnut Crisp from Potter's Crackers topped with Organic Goat Cheese made in New Mexico at CoonRidge Farm from their free range goats,  topped with Blake Hill's Moroccan Plum & Fennel Chutney (it is made of75% pure fruit)…and the rest is history. I grabbed an extra box from her before leaving 😉
Once home I ripped it open….I couldn't get enough of that combo that I had while mixing and mingling at the Travel Massive event. I wanted MORE and I wanted it RIGHT AWAY.
What's left?
Not much…the Good News Granola by the Hudson Henry Baking Company got tossed into some yogurt (my favorite way to eat it), and Mr. S grabbed the  Coconut Lavender Almonds by Lush Nuts, so they're a thing of the past. I did save the Lanjäger by Schaller & Weber for Ben, because he loves meat sicks (Landjäger translates as "hunter's salami" according to the info I received), and it doesn't require refrigeration, so he can take it with him for some added protein after his rugby game.
Compared to other subscription boxes
Knoshy provides food that can be ripped open and eaten without much preparation at a cost much less that the other boxes I've received or bought. Plus, all of the items are American Artisan Foods!
BTW
That box that I devoured, doesn't come out until NEXT month, so if you want one as well, go to Knoshy.com and order a monthly, quarterly or annual subscription (or send one as a FAB gift to someone you love).
DETAILS