I know that you've been eyeing these bunnies
How do I know? Because I've been checking out the LINDT GOLD BUNNIES for the past few weeks myself. My hand goes to take one off the shelf and I think….WAIT, if you buy it now you'll have eaten the ears off BEFORE it makes it into the basket! 

Then again….I tend to cave very easily.
I figure that I deserve to enjoy the rich Lindt milk chocolate (they also come in dark and white chocolate) and since these bunnies seem to only hop around for a short time, I decided to indulge. Besides, I'm doing a GOOD thing, since for every bunny sold Lindt donates 10 cents to Autism Speaks (up to $100,000), so I'm just doing my part to help.
Lindt Easter Bunnies are a 60 year old tradition
The Lindt Gold Bunny has been around even longer than I have (since 1952) and they hop their way through 60 countries around the globe.  Not only are they beautifully wrapped in gold foil with that iconic red ribbon around the neck, but each bunny is made from wonderful Swiss chocolate by master chocolatiers.
Life's to short to waste it on bad chocolate.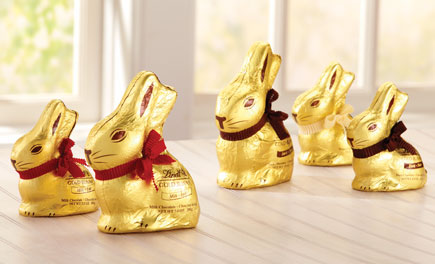 The Lindt GOLD BUNNY Challenge
Lindt is having Pin 2 Win Lindt GOLD BUNNY Challenge. They asked  Pinterest users to create boards focused on Easter traditions, such as egg hunts and basket building, featuring at least one pin with Lindt GOLD BUNNY. Once 1,000 or more Pinterest users have participated in the challenge, which ran through March 27, Lindt will donate an additional $10,000 to Autism Speaks. All participants were eligible to win one of ten gift baskets with the essentials for creating a memorable Easter – $100 of Lindt Easter products.
Go check out the great pins and add your own.
I received (and ate) a Gold Easter Bunny and LINDOR Mini Eggs to facilitate this post from Lindt. I guess that means I'll have to go buy more for giving this holiday….