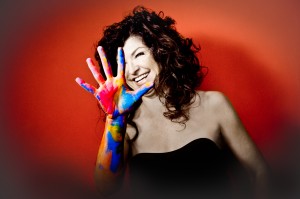 Calling all my Southern Socialites here in the Miami area. If you love cars and you love ART – you're going to FLIP over the 3D street art spectacular that Cadillac is sponsoring to coincide with the launch of the all new  Cadillac ATS .
It seems that they've hired artist, Tracy Lee Stum to create some pretty cool looking 3D street art based on the locations appearing in the ATS vs. The World commercials: Patagonia, Morocco, Monaco and China. The city being featured in Miami's Bayfront Park will be Monaco (nice choice) and will take place from September 18 – 22, as it takes the artist several days to complete the artwork.
For my New York and International readers who want to check it out, the tour is also planning stops in:
New York(China)
San Francisco (Morocco)
Chicago (Patagonia)
If you haven't heard about Tracy before, she creates HUGE masterpieces that average 15ft – 30ft that look like they're 3-dimensional when you look at them.
3D Street Paintings (also known as Anamorphic art) are illusionary 2-dimensional images that appear to become 3-dimensional when viewed from a fixed point through a camera lens. Tracy specializes in interactive 3D images which invite the viewer to become an integral part of the painting, thereby enhancing the playful performance quality of the piece and creating a direct connection between viewer and artist.
Now THIS IS COOL – by using augmented reality along with your smartphone, you can see the ATS actually drive and challenge these chalk roads in a rendition of the ATS vs the world experience.
If you're in the area, this is worth a drive over to see what Stacy is creating. In the meantime you can check out her work ONLINE.