NOTE: I have a STEVA+ that I received to review. I added it to this post because I thought it was a good choice for snowbirds.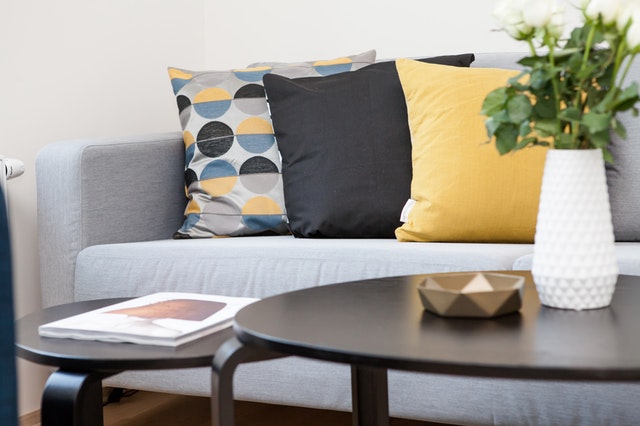 You FINALLY did it. You've had enough of the snow and have decided to winter where the sun is shining. You might even have moved to South Florida (HELLO NEIGHBOR). You've either purchased or have rented your new home-away-from-home and are delighted with the prospect of setting up a household in your new neighborhood. You do miss your old house that you live in most of the year but want to make this seasonal house completely different in decor and ambiance. Take it from someone who knows, when the sun is shining through those windows and the beach is calling your name, you want your new second home to reflect that feeling as well.
Furniture
The type and amount of furniture you select will depend on your budget, the size of the home, the layout of the rooms, as well as your personal preference. Maybe your main home is ultra-conservative and traditional, and you want to buy new furniture that is fun, more modern, or completely different from your other home. You may even wish to choose an interesting theme. For example, if your new home is near or on the beach, you may wish to start with a coastal theme. Add cool tones of blue and green to the living areas and bedrooms. It's so much fun mixing things up a little. When things LOOK different in this home, you'll totally feel like you're on vacation all season long.
Accessories
Carry your theme over with matching accessories. In your beach home, you may wish to add boardwalk-toned laminate flooring, rustic anchors, giant seashells, and deep ocean blue paint and rug colors. A ship wheel chandelier and sailcloth upholstery will complete the look. You'll most likely find that your house or condo has either tile or laminate flooring (BTW – this keeps the house cooler vs. carpeting), but I love using throw rugs to complete a room and soften the loo
.
Cleaning Supplies
No matter where you live, housekeeping is going to be a priority. All-in-one brands may be the most efficient for you, especially if this residence is a very small space or if you just don't want to spend a lot of time selecting cleaning products. All-in-one equipment such as Nugeni STEVA+ cleaning systems are efficient and get the job done easily and quickly and without fuss or bother. There are not many machines out there that can both vacuum and steam mop like the STEVA+ can. Storage is never a problem as the system is very compact. I love it for quick cleanups and the dust that comes in from leaving my back door to the pool open.
Setting up and traveling between two homes won't be easy, but you will find that each will have its own appeal. One will be for rest and relaxation and the other for every day living and working. Setting up the second home will be such a fun project that will be ongoing for years to come.
Get Ready to Relax
The most important part of setting up your new home is to make it a fuss free zone. You're here to fell like you're vacationing for the winter, so make as little work as possible for yourself by keeping your new life in the warm weather simple. Now, put on that bathing suit and either head out to the pool…or to the beach.

For more about the STEVA+ visit Nugeni. I'm sure that you'll love it as much as I do.  MyNugeni.com