Living in the sunshine state means I don't have the same winter hibernation luxuries as my girlfriends. While they're able to neglect their legs for months on end, my legs need to be ready for skirts year round! This simply means my daily routine always incorporates my razor, however it also means I have very high expectations for what a razor can do for me. I need something that's easy to grip and gets everything on the first swipe. I'm not big on having to reshave the same spot and risk a nasty razor burn look.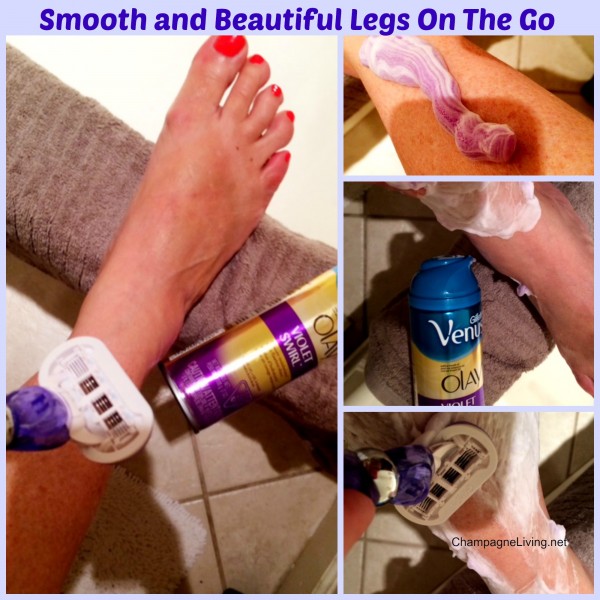 In addition to residing closer to the equator than my NorthEast friends, I'm also traveling non stop, sometimes barely home for more than a few days throughout the month. While I'm off doing my champagne living, it's very important that my routine (including shaving my legs) is quick and effective to ensure I don't miss precious time from my trip.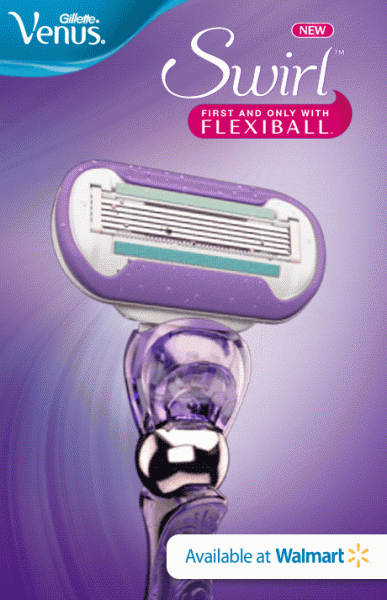 I was very excited to try out my new Gillette Venus Swirl Razor and shaving gel on my last business trip. The razor's rubber handle was not only easy to grip, but didn't become slippery once it was wet. I loved the swivel head that wrapped right with the curves of those hard to get places like knees, ankles, and behind your legs. Shaving was as easy as 1-2-3 and I wasn't stuck in the shower forever making sure every hair had been removed. The gel smelt incredible and added an extra layer of protection to ensure no cuts or nicks while I was shaving. Plus, a little goes a long way! I was able to shave both of my legs with a small amount of gel.  The razor head comes in a convenient separate package which makes it perfect for travel. Once I take my razor handle out, I simply open the cartridge container and snap it right into place!
Why the Gillette Venus Swirl
The new proprietary FlexiBall technology offers a totally unique movement like no other male or female razor on the market. Venus Swirl is the first and only razor with the FlexiBall, moving in multiple directions to navigate all of the tricky areas of a woman's body.
Venus Swirl is the first Venus razor to feature Gillette's most advanced blade technology, with five Contour blades that cut hair at lower cutting force and have thinner, finer edges — the thinnest in Gillette's history. The Contour blades individually adjust to a woman's every curve and contour.
A water activated MoistureGlide Serum surrounds the blades for incredible glide.
The beautiful new violet-hued translucent handle combines a swirled pattern and ergonomic gripping design for outstanding control and easy handling for optimal maneuverability over those tricky areas.
For a more enriching experience, try Venus with a touch of Olay VioletSwirl shave gel with 5x more moisturizers.

Spend less and have more money for wine!
Walmart has all the NEW must-have beauty products. Look for the entire collection of new Venus Swirl products in the shave aisle at your local Walmart store or at venusswirl.com. With Walmart's everyday low prices, you can save money on the beauty must-haves you want like the new Gillette® Venus Swirl, which means extra money to have wine with the girls!
Connect with Gillette and Walmart
Facebook: https://www.facebook.com/gillettevenus
Twitter: @GilletteVenus, @Walmart
Website: venusswirl.com
This is a sponsored post for SheSpeaks/Gillette Venus but all opinions are my own!