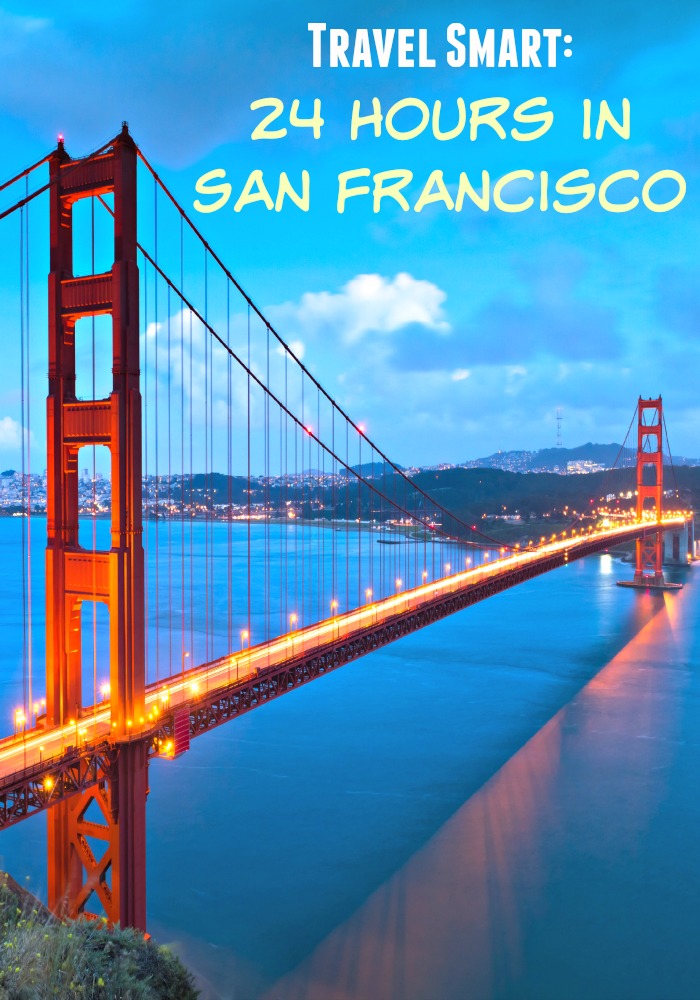 [bctt tweet="24 hours in San Francisco"]
You have only 24 hours in San Francisco, what do you see and do? It is a big city and you need to have a plan the minute the plane's wheels touch down. Travel Smart: 24 hours in San Francisco… ready, set, travel.
Transportation
Getting around San Francisco is the first thing you need to plan. Don't rent a car for the day, but rather use ride sharing services like Uber, SideCar or Lyft. You can also use the BART and CalTrain system. Parking is expensive and you honestly don't have time to search for parking when you only have 24 hours!
The Ferry Building
Head over to the Ferry Building and shop through the artisan farmer's market. Here you can find local cheese, bread, seafood, and even chocolate made in the San Francisco area. This one stop gives you access to a lot of the wonderful culinary treats you can find in San Francisco. Check the Ferry schedule and take an 1-2 hour ferry out into the bay. You can get on a boat that goes out to the Golden Gate Bridge, to Alcatraz, or out to Sausalito. It is well worth the time to see the city and landmarks from out on the water.
China Town
Wonder through China Town and stop in for lunch for a little Dim Sum. Pick up some souvenirs and take a lot of pictures of this colorful part of the city.
Jump on the Cable Car
You can't come all the way to San Fran and not jump on the cable car. You can get on the cable car either at Fisherman's Wharf or in Union Square. The cable car will take you up some of the steepest hills in the city and let you see the city in record time.
Golden Gate Bridge
The best time to visit Golden Gate is at sunset. Start down at Chrissy Field and get some pics of the bridge from the shoreline. Then head up and plan on walking or renting a bike and go across the 1.5 mile bridge. Look down and you can see sharks, sea lions, and even dolphins swimming below.
Night Life
There is no shortage of places to try out for dinner in San Francisco. Whatever you want to eat, the best chefs in the world can make it for you. There are also a dozen breweries if checking out the local craft beer scene is on your mind. San Francisco typically goes to sleep around 2am – perfect timing to get to the airport and catch your flight out.