Modern and minimal homes are the current craze. It is smart to modernize your home so that it is more sustainable, maintainable, and manageable. Modern features can reduce the household bills and make the place nicer and more convenient to live in. There are obvious ways to modernize your homes, such as add quirky art and modern furnishings. But, the smart ways are what really make a difference. Here are the smart ways to modernize your home.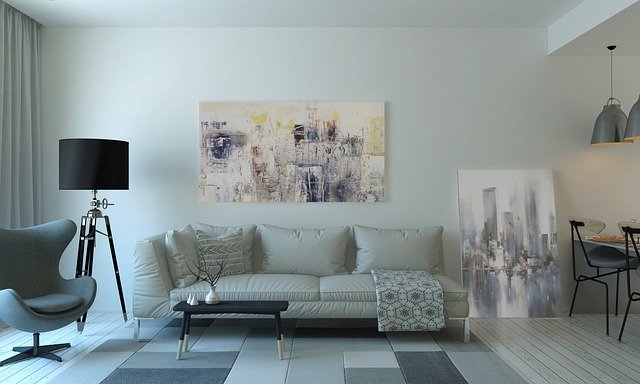 Create an open plan living space
Open plan living spaces accentuate the size of the house and make it more livable. Although opening up your home by knocking down walls and redesigning the floor plan is not an easy task to do alone, it can be achieved with the right help. 
Mark Stewart Home Design can help bring your house plans to life. Whether you are looking to modernize your current home or build your own new home, the expert team can assess your ideas and bring them to fruition. 
Use natural materials
Natural materials are the way forward when it comes to home design and construction. Synthetic materials are not only outdated, but they add no value to your home. 
Using woods and metals will create a timeless illusion and make your home more sustainable. Natural materials are longer-lasting, which will be cost-effective. Instead of spending time and money updating your plastic tiles every few years, exposed brick walls and wooden beams will last decades if maintained well. 
Ditch unneeded furniture
Furniture can be big and bulky. If you fill your home will unnecessary furniture, you will hinder space and lack the minimal feel. 
Assess your home and the furnishings inside. Weigh up what you really need. For instance, every home needs a sofa. But, not every home needs extra armchairs. Thus, ditching the unneeded and unused furniture will make your home more minimal, manageable, and livable.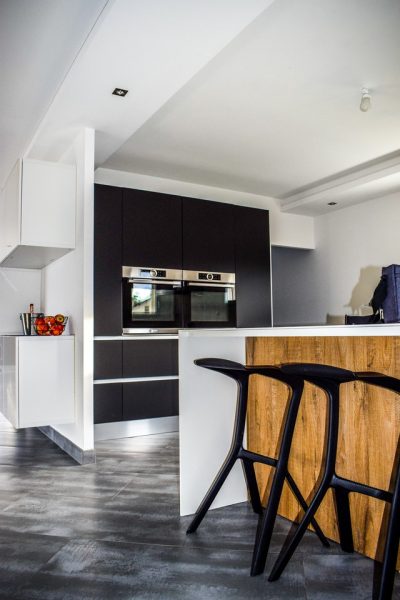 Enhance sustainability
Modern architecture and home design are moving towards sustainability. Thus, being in line with the times will help you modernize your home and living in a more sustainable way. 
There are many ways to achieve a greater level of sustainability at home, which will help you achieve a modern design and living space. Here are some ideas:
Solar panels: solar panels generate electricity through sunlight, which will power your home and reduce the cost of energy bills. It will also enhance the modern look of your home from the outside. 

Double-glazed windows: double-glazed windows are a must for energy bills. They also

regulate the temperature

in your home, which will mean you will require less heating or air conditioning. Using less temperature control will reduce your carbon footprint. They also appear up-to-date and can enhance the appearance of your home. 

Use reclaimed material to build furniture or the architecture: using reclaimed materials for the interior and exterior design will enhance the look of your home and also make the design longer-lasting. You could use reclaimed wood for the roof beams and making beds or chairs. It is more cost-effective and will align your home with the modern naturistic trend. 
Add more mirrors
Mirrors are a great way to bounce around light. If your home lacks natural light, then mirrors are an easy way to increase it. 
Using mirrors is fun in any room. You can go with funky shapes and designs or minimally refined edges. They don't take up space either if you attach them to the walls. 
You can be smart with mirrors and use mirrored furniture. For instance, you can utilize mirrored tables, light shades, and fixtures. These will enhance the light in your home as it will bounce around more light coming through the windows. 
Increase the security
Modernizing your home is more than just the look and functionality. The security matters too. With new technologies advancing the way in which we can secure our homes, it can be a good idea to increase security. 
Adding cameras and smart alarms will help to protect your home and your belongings. You can choose systems that directly connect to your devices so that you can be in control of your home even when you are not there. You can view your cameras, control temperature, and lock doors. 
Smart lights
Lighting matters for enhancing the interior of your home. It will brighten the space and make it appear more modern. 
Smart lights that come on when you enter rooms, and turn off when you leave a room, are a modern touch to any home. They are energy-saving too, which will help you live more sustainably and reduce your energy bills. 
Using smart lights on the exterior can also heighten security. If you are not home and an intruder attempts to enter your property and the lights come on, it will likely deter them. 
Automatic blinds
Opening up the blinds and letting the light in first thing in the morning will create an illusion of a larger space. 
Leaving them open all day to let in a maximum amount of light is key if you want your space to feel airy and modern.
To modernize your home and make it smarter, you can add automatic blinds. These can be controlled by controls, phones, or set to open and close on a timer. These will ensure that your home receives the maximum amount of light from sunrise to sunset. Smart technologies will also enhance the modern feel of your interior. 
Play with colors
Although it might seem obvious that colors play a huge part in how modern your home feels, the color choices might not be obvious. 
It is true that light colors, like whites and creams, can enhance the size of a room. However, they are not always everyone's choice. 
Adding different colors can spice up the interior and ensure your house is on-trend. For instance, when a certain color is on-trend, it can help to add those colors to your home to make it feel trendy and fun. 
You should also never say no to black. Black is always in and when used right, it can work to modernize the home. Small touches of black in rooms like the bathroom can make it feel more luxurious and smart.