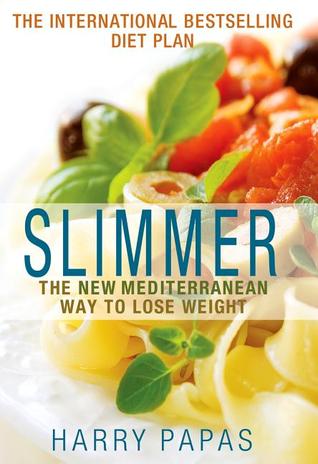 I feel like I've been consuming diet books as heartily as I've been downing that ½ gallon of coconut fudge ice cream that's in my freezer. It's almost a self-sabotage. I read what I SHOULD be doing and I blatantly do just the opposite. I keep telling myself it's because I'm just "not ready" to make the changes necessary, but I know that there is never a RIGHT time to start – you just jump in and DO IT.
Today's diet plan is an International best seller touting the New Mediterranean Way to lose weight. There seem to be a lot of books on the market right now using the same method, and for good reason. Now only does it WORK, but it's a healthy long term plan.
So, what does Slimmer by offer that the others don't? First of all, Harry Pappas (author of Slimmer) is a certified dietician (in Greece)…yeah, yeah – I've heard that before. What makes him SPECIAL is that he PERSONALLY lost 110 lbs. using this nutrition plan that he created. IMPRESSIVE! I figure a book written by someone who's been in the trenches UNDERSTANDS what the dieter actually goes through, not only only the hunger and willpower, but the emotional changes as well.
Pappas offers a step-by-step plan with lots of hand holding via a daily eating plans (through his 3 cycles), TONS of yummy looking recipes, and even the PSYCHOLOGICAL issues that dieters have and how you can overcome them (see I told you).
Looking over the meal plans, you'll immediately see that there's ENOUGH food with the VARIETY to keep you satisfied throughout the day.
For example – here's day the first ½ day on Cycle A
Breakfast:
· 1 large orange, 2 medium kiwi, or 3 bite-size prunes
· ¼ cup whole grain or bran cereal
· ¾ cup reduced fat (1%) milk
· 1 slice whole wheat/whole grain bread, toasted (if desired) with
· 2 tsp. fruit jam or honey
· Coffee or tea (green or herbal)
Mid-Morning Snack:
· Low-fat fruit-flavored yogurt (6oz)
Lunch:
· Slimmer Chicken a la Crème
· Large tossed salad
All that and there are still 3 more meals to go for the day!
My gut (sic) tells me that Slimmer will get you slimmer in no time, as I can't imaging feeling deprived eating these great foods. Is it time to toss the rest of that ice cream out? Hmmmm….
Pick up a copy of Slimmer on Amazon.com or a bookstore near you.
I received this book to facilitate a review. All opinions are strictly my own.