You say you want a revolution
Well, you know
We all want to change the world
You tell me that it's evolution
Well, you know
We all want to change the world – The Beatles
If you want to know who REALLY rules the mansion I can show you…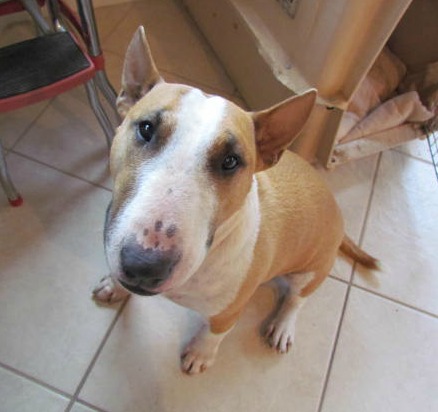 When the kid moves out, you retire, and have no little ones running around, what do you do to fill that motherly void?  Meet Bullmoon's Caporegime – call name Clemenza – known around the mansion as Clem.
Oh, we've always had dogs. As a matter of fact back in RI we had Old English Sheepdog's. LOTS of them. We had show dogs, foster dogs, and pets. We were real OES breed people. When we moved from the cold to the hot climate, we knew that it would be a disservice to our final remaining dog to take him down here. With sadness we rehomed him with people we knew had been waiting for a dog from this particular litter for a LONG time. We knew that he'd have a wonderful home.
Less than one year later we found ourselves driving ACROSS THE COUNTRY from South Florida to just outside of Los Angeles to pick up Clem from his breeder. Our retired life got a little more interesting. Miniature bull-terriers are VERY different than the herding dogs we were so used to.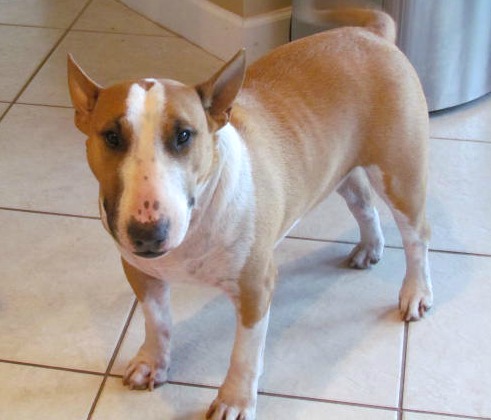 We had to get used to his quirks
Barking at whomever is at the door
Bull-headed
They don't like to go for walks, and would rather walk outside and just lie down and STAY there.
Bullies need to be touching you – especially when they sleep.
And that's just the start
The worst part is his sensitive stomach. Not that I'd ever give him doggie junk food. But, I have to be so careful of the ingredients which is why we're particular to a FAULT with what we feed him. There are a few brands that he tolerates….and LOVES. One of those happens to be Merrick. Even then I had to pick and choose very carefully (although there's no denying him Grammy's Pot Pie). I want to give him REAL food, that gives him a balanced diet.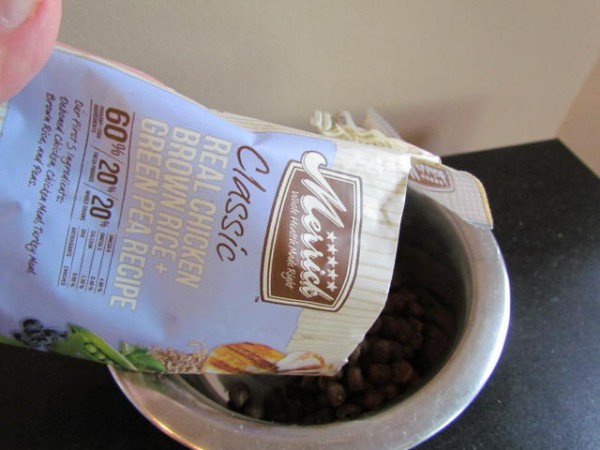 If you were on twitter with me the other night, you saw us chatting a little about the new Merrick Revolution. You see, they've come out with 11 new recipes under the Classic and Grain Free brands designed with dogs like Clem (and YOUR dog) in mind. Similar to those farm to table restaurants that I LOVE so much, Merrick has taken a similar approach to dog food.
1.  Local growers: Merrick uses ingredients grown by American farmers and ranchers, not only to support local communities, but also to ensure freshness and food safety. With fewer distributors, handlers and warehouses, farm-grown ingredients get to Merrick's kitchens faster.
2. Nutritious real whole foods: Merrick uses food in its purest state — with no artificial additives, sweeteners, colorings and preservatives. Real meat provides essential amino acids dogs need; omega-3 and omega-6 fatty acids ("healthy fats") provide energy; and vegetables, fruits and whole grains enhance dogs' overall nutrition, absorption of nutrients and immune system function.

3. Cooked in Merrick's own kitchens: Putting cooking and quality control under one roof, Merrick cooks food in small batches in its kitchens in Hereford, Texas to ensure its foods exceed taste, health and presentation ratings, as well as that its recipes appeal to both human and pet palates.
4. Balanced nutrition: Merrick Classic recipes feature a healthy balance of 60 percent meat/poultry/fish, 20 percent fruits and vegetables, and 20 percent whole grains. Its Grain Free recipes feature a balance of 70 percent meat/poultry/fish, 30 percent fruits and vegetables, and contain no wheat, rice or other grains, for dogs who have food allergies or sensitivities. Both brands ensure dogs get more of what they need and less of what they don't.
5. Health you can see: Since the adage "you are what you eat" applies to both people and pets, Merrick uses industry-leading levels of protein and healthy fats to ensure dogs' optimal weight and energy; fatty acids for healthy skin and coat; glucosamine and chondroitin for healthy bones and joints; and highly digestible meat proteins, peas, apples and blueberries for improved digestion.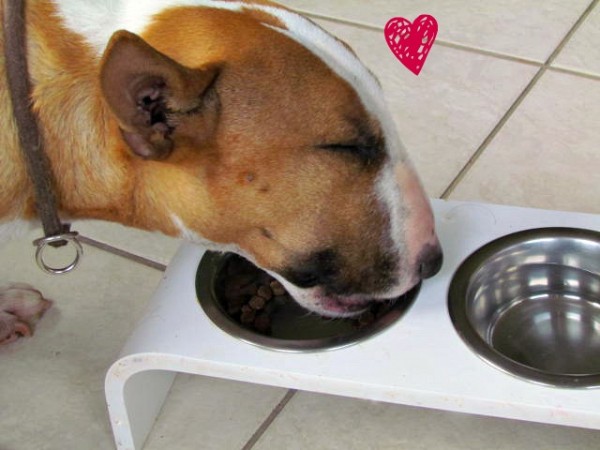 Which is why I've chosen Merrick to feed to Clem. Now I can't tell you how it tastes….but I'm guessing that it's DELICIOUS as well as good for him.
For full details on Merrick foods go to their website at www.merrickpetcare.com and follow them on facebook. You'll find their products at pet stores around the country.
I received product to facilitate this review. All opinions are strictly my own.