Note: I was sent product to facilitate this post. All opinions are strictly my own.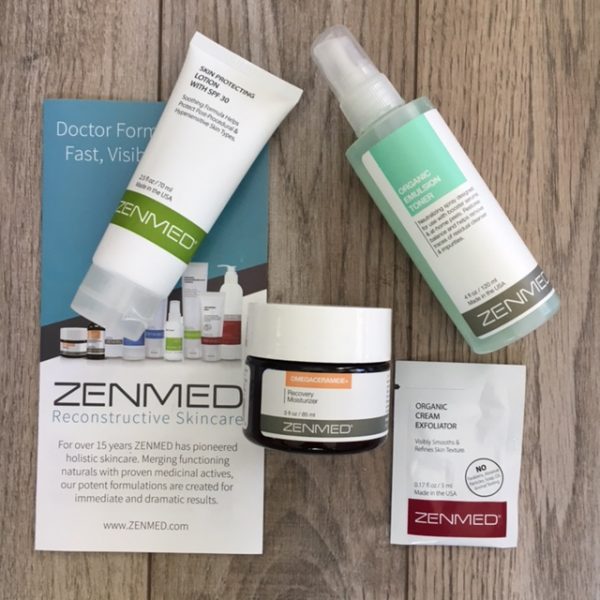 If you hadn't noticed, I've been on a quest to find great skincare products lately. I've been willing to buff, spray, peel, scrub, slather, pat, splash, and protect. I've used battery operated machines, things I couldn't prounounce, product that make my skin turn green, product that made my skin break out, and more…all in the hopes that I would look younger and healthier.
Face it Zippy…you're 63
My inner-self knows that. But, the mirror screams back at me – DO SOMETHING and MAKE IT HAPPEN NOW. We all know that it's not possible to radically reverse the damage that's been done. Especially when you grew up in the age of no sunscreen, baby oil and reflectors.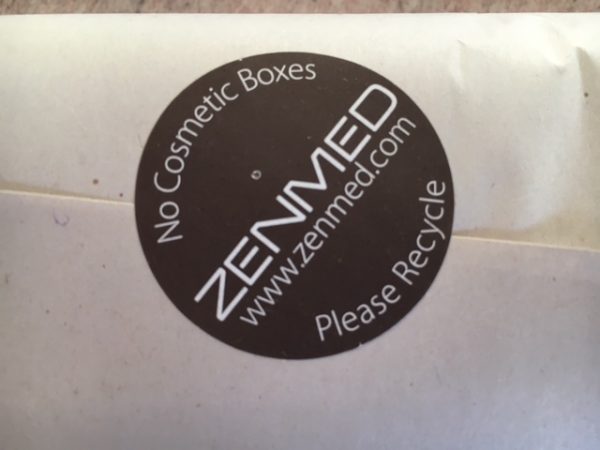 But I can control from this point forward
For the past month or two I've been using ZenMed products on my skin. While they sent me a selection of four products including:
Organic Emulsion Toner
Omegaceramide+ Recovery Moisturizer
Skin Protecting Lotion with SPF 20
L-Ascorbic Booster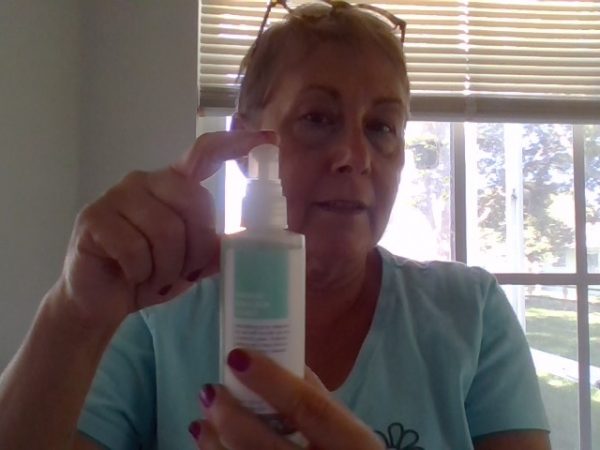 I tried them all but….
I settled on only using two of them on a regular basis.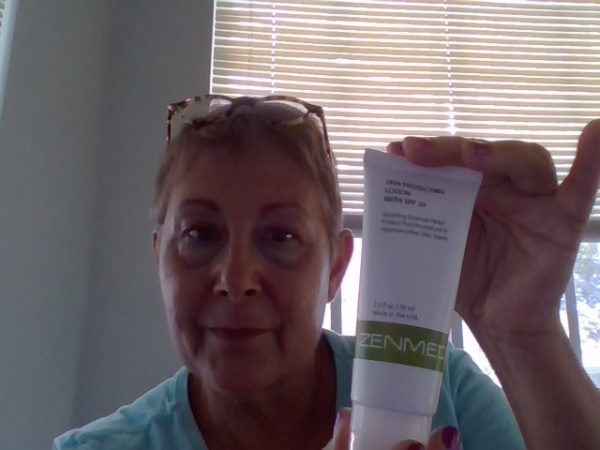 I honestly couldn't figure out how/when to use the Organic Emulsion Toner. It is to be used to minimize post-procedural redness (my skin has never gotten red) and with booster serums and at-home peels. Since I wasn't doing any peels, and the L-Ascorbic Booster was working perfectly WITHOUT the boost, I put it aside (actually my sister-in-law grabbed it and is using it daily). The serum seemed to dry my skin out. Knowing that not all products work with every type of skin, it wasn't a big deal.  I also put aside the Skin Protecting Lotion with SPF 30 (on sale right now for only $5.00). I still have an oily t-zone (yes, even at 63) and it was much heavier than I like and as a result I broke out from it. Living in South Florida, I find that heavy creams tend to run and if I wear makeup, it runs along with it. I plan on going back to using it when the temperature dip below 95.
Why I concentrated on two products
The L-Ascorbic Booster serum with is a very powerful dose of Vitamin-C for your skin. I have terrible dullness and volume and I found the serum helpful in giving me a brightened skin tone. It is supposed to boost new collagen creation, and there was a slight firmness that I got from using it that I hadn't had before. I also like the fact that it protects my skin from environmental damage and neutralizes free radicals.
At night I follow up with the Omegaceramide+ Recovery Moisturizer. I must say that it's the PERFECT weight for a night cream for me, and the fact that its fortified with collagen-boosting Omega 3 Fatty Acids and Hyualuronic Acid means that I'm able to condense two skin care routines into one. My face feels extremely hydrated without a heavy greasy feel after applying it.
Both products work very well, and I'm keeping them on my "must buy" list, although I'd love to try some of ZENMED's other boosters like the
Glycolic Booster – to get rid of dead skin cells and help skin look more vibrant by allowing elevated moisture levels
Retinol Booster – to lessen the fine lines and imperfections.
B5 Hyaluronic Plumping Serum – as I said, I'm dealing with loss of volume and a plumping and softening serum, can help those fine lines and wrinkles be less visible.


Want your skin to get it's zen on. Learn more at ZENMED.com.
Please let me know if you try these or any of the other formulas. I'd love to know how they work for you.