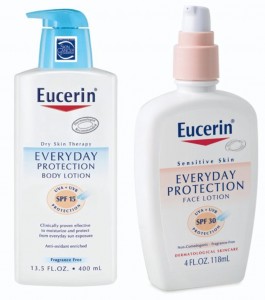 I remember the first time I saw Eucerin. We had just built an in-law apartment on our house in Rhode Island and my mother-in-law moved in with all of her stuff. On her dresser was a HUGE vat of Eucerin Creme (I say VAT, because I soon found out that she would buy the largest size available). I asked her why Eucerin and she answered that it was the ONLY thing that kept her skin soft. Did I mention that at 85 she still has beautiful soft skin? I noticed that this was not ONLY a summer practice for her (she was and is a sun worshipper), but something she did twice daily year round.
Twenty-eight years younger, and a youth of not taking care of my skin means that I have some catching up to do. The good thing is that I can follow in her footsteps and heal the damage by doing just what my mother-in-law did, by slathering Eucerin on daily. The nice thing is that Eucerin has come a long way since I first saw that big jar on her dresser. Now I can not only soften the skin on my body, but I can use Eucerin Everyday Protection SPF 15 Body and SPF 30 Face Lotion that also provide broad-spectrum UVA/UVB protection.
Over the years I've lived in the cold New England winters and hot Florida summer and no matter WHAT the weather, it always seems to affect my skin. Whether chapping from the blistering cold winds, or baring myself outdoors (even during the day I wear dresses and sleeveless exposing myself to the elements), it's important to remember your skin needs everyday protection so you can prevent skin problems later in life.
Of course, your diet and how you live (reducing stress) also affect your skin, so make sure to keep hydrated by drinking lots of water and eat a healthy diet consisting of fruits, vegetables, lean protein and high-fiber grains so that you're ready to show your skin this spring.
Do you have some tips on getting yourself ready for the spring? Share them with Eucerin and enter our giveaway, so that YOUR SKIN will be ready for the great weather to come.
I received product to facilitate this review and for this giveaway. All opinions are strictly my own.
GIVEAWAY
Go to the Eucerin Facebook Page to take the pledge, join the movement and share tips on how Everyday Protection SPF 15 & 30; Body and Face Lotion can help you as the weather changes.
Extra Entries
Follow Eucerin on twitter
Click HERE to Tweet this giveaway adding the hashtag: #SkinFIRST it auto fills your tweet and you get credit each time you twitter and report back (you need to add the hashtag manually). (unlimited entries)
Add this giveaway to other sweeps & giveaway sites – 5 extra entries
Follow Champagne Living- on the sidebar
Subscribe to Champagne Living for FREE
Link to this giveaway on your Facebook page

Follow Broad "Z" on twitter.
Grab our badge from the sidebar and add it to your site.
* Be sure to leave a comment letting me know if you've done any of these (if you already subscribe or have our badge – please note that in the comments as well).
* This giveaway is open to US residents, 18 and over and ends on April 23, 2011 11:59 EST.
* Good Luck