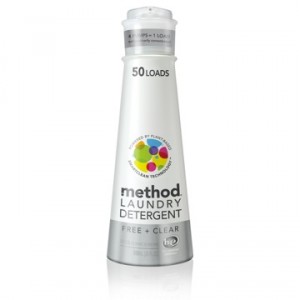 Me? I have a love/hate relationship with it. The LOVE part? Nice clean fresh laundry. There's NOTHING in the world like it. I LOVE taking fresh clothes and linen out of the dryer and wearing them. Now if I could only find someone to fold and IRON I could say that I love EVERYTHING about  my laundry room. Thankfully, I have it all set up for making life easy. I've got everything that I need within reach…including a bottle of method detergent. I guess you could say that I LOVE my laundry room. Funny, but it's the one room in the whole house that's always CLEAN…guess it's because I'm the only one who ever goes in there.
Have YOU tried method? The first time I picked it up at the store, I did so because the bottle looked so earth-friendly and downright COOL. What I found out was, that it's
Smarter – one 20 oz. bottle can tackle 50 loads of laundry with a quarter of the dose of leading brands.
Easier – the precision-dosing pump can be used with one hand and prevents over usage.
Greener – method's laundry detergent is made with 95% natural and renewable ingredients in a recyclable bottle.
Do you love your laundry room? If you do, you could win yourself some free method laundry detergent for your laundry room, by creating Laundry Room Love, a crowdsourced music video that spreads the word about method's amazing laundry detergent.
Here's how to join in the fun
1. GRAB your webcam or video camera.
2. "Like" method's facebook page by April 15th and watch the how-to video on how to submit your own Laundry Room Love video.
3. The first 200 submissions will be featured in a music video and receive a free bottle of method laundry detergent. Everyone who watches our how-to video will get a $2 redeemable coupon for the laundry detergent.
4. They are going to launch the final crowdsourced video and thank people for sharing and watching by offering another $2 coupon.
Check out this video for a HOW-TO
PLUS we're giving away a bottle of method laundry detergent to one of Champagne Living's readers as well
GIVEAWAY
Click HERE to Tweet this giveaway it auto fills your tweet and you get credit each time you twitter and report back. (unlimited entries)
Add this giveaway to other sweeps & giveaway sites – 5 extra entries
Follow Champagne Living- on the sidebar
Subscribe to Champagne Living for FREE
Link to this giveaway on your Facebook page
Follow Broad "Z" on twitter.
Grab our badge from the sidebar and add it to your site.
* Be sure to leave a comment letting me know if you've done any of these (if you already subscribe or have our badge – please note that in the comments as well).
* This giveaway is open to US residents, 18 and over and ends on April 16, 2011 11:59 EST.
* Good Luck
This review was made possible by Mom Spark Media. All opinions are strictly my own.