I know, you're thinking….why has it taken so long for her to spill the beans on that car she got to drive a couple of weeks ago? The videos and teasers came out immediately, but what's the REAL DEAL? Well, I was waiting to get my camera back, and unfortunately it was lost FOREVER. The camera can easily be replaced, but the photos of The beautiful Omphoy Ocean Resort, lunch by Michelle Bernstein and the photos of that magnificent car are ALL GONE. I found ONE LONELY PICTURE that Nissan had taken of Jewel (of Jewel's Fab Life) and I sitting in the car, just back from our drive around beautiful Palm Beach, FL.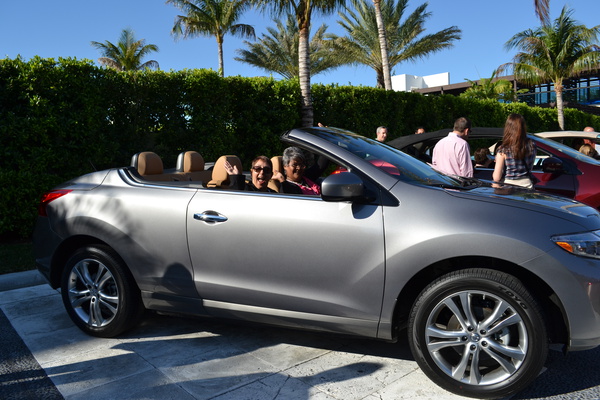 Yes, I'm waving to YOU!
I wish that you could have been in the car with Jewel and I. First of all, Palm Beach is so beautiful this time of year. The sun was shining and all of the beautiful people were out. We chose a color that would make the two of us look our best (the silver complemented my black dress and the car looked like an accessory to Jewel's beautiful silver hair), as we put the top down with a single push of a button and began our trip down A1A.  As we turned the corner past Trump's Mar-a-Lago ,  a cute young man came walking across the street with a platter of food and drinks (we thought that Mr. Trump had sent it out just for US,  but unfortunately he kept walking past the car to the beach club…stopping to look in awe at this gorgeous car).  Both Jewel and I thought that we might want to pull into the driveway, honk and see if Melania wanted to come for a spin with us, but we decided …. better to be selfish and enjoy it all ourselves.
This is a car that you might not want to share with the husband, kids, etc., because it's just TOO much fun and luxurious to share. Yes, it's a great size for a convertible, with enough seating for friends or family. The seats are spacious, with a FULL back seat (no little 2-seater), and throughtful technology to make driving easy. For those up north, this car will take you straight from the top-down in summer to hauling skis to the mountains in the winter.  How? Well, it's the FIRST AWD crossover convertible and the trunk space is enough to handle 2 sets of golf clubs in the summer or all of the ski gear in winter.
With the sexiness of a convertible , with a low-profile soft top, this car blends fun and practicality of the Murano into one package. The plump leather seats with double stitching give the feeling like you're sinking into an overstuffed leather chair, the wood grain touches, and the fact that like a crossover, you're up higher for better visibility will give you a command of the road that you don't normally get in a convertible.
The Murano CrossCabriolet comes in SIX delicious (and fun) colors
Caribbean – LOVE this color…it's FUN like a sherbet color on a hot summer day
Glacier Pearl
Sunset Bronze – this will appeal to both men and women
Super Black
Platinum Graphite (that's what we're driving in the picture)
Merlot
I don't know too much about the inner workings of cars. The only things that I want to know is, does it look good, will it get me where I'm going, does it have a great sound system, what kind of technology does it have (to play with) and what's the gas mileage? Horsepower, engine size, etc. mean nothing to me… This car gets 17 – 22 mpg. which is not bad for a sporty car like this, it's got Nissan's advanced air bag system (to keep you safe) and a pop-up roll bar (important safety feature for a convertible).
The TOYS ~
Heated front seats & steering wheel
Nissan Hard-Drive Navigation system – including XM NavTraffic
Rearview Monitor (for backing up)
Bose AM/FM/CD system with EIGHT SPEAKERS
Priced  at $46K – this car comes completely equipped.
Maybe it's that I'm their target market, maybe it's that I still want to have fun driving,   maybe it's that I love style and fashion and this car turns heads (just ask all of the people who stopped us to ask about the car on our drive around town). Whatever it is…I like this car!
For more information on the Murano CrossCabriolet, go to: http://www.nissanusa.com/muranocabriolet
Nissan provided me with a car to drive and a night away in Palm Beach in order to allow me to experience this vehicle. All opinions are strictly my own.