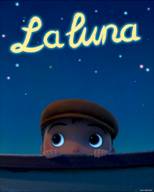 One of the highlights of my trip to San Francisco with Pixar was seeing the short "La Luna." I've always been a huge fan of the short, as I imagine that it's an incredible challenge to get EVERYTHING that you need to say into a shorter format, and while La Luna may be small in the word department, it's big in the heart. A relationship film about a father, son and grandson this wonderful piece is one that any family will be able to relate too.
All I can say is…get to the movies EARLY, because this short is being shown BEFORE BRAVE, and you don't want to miss it.
I was able to sit down with La Luna's director Enrico Casarosa along with a group of other bloggers and pick his brain about this movie.
Did you create the La Luna characters based upon your own family?
ENRICO CASAROSA: I just that grew up with my dad and grandfather not getting along. Once my, when my grandmother died, we, our grandfather moved with us, moved in with us, they would talk to me but wouldn't talk to each other.

They would talk to each other through you?
ENRICO CASAROSA:  Yeah, so I was a bit of the bone of contention often, and you know, if you go back twenty-five years, you see the kitchen and the dinners, it would have been a lot like this boat where it would be my dad and grandfather, and I'd be in the middle.  So that was something visually I wanted to capture.  So it felt like the right kind of memory and personal story to then convey a coming of age, uh, of  a boy that has to find his own way when someone is telling him do this- no, no, no, no, no, do that.
And what do you do?  I remember feeling well, if I do this, I'm gonna disappoint him, and if I do that…so it was my way for once to make them get along, you know, and to kinda bring up a little bit of that feeling.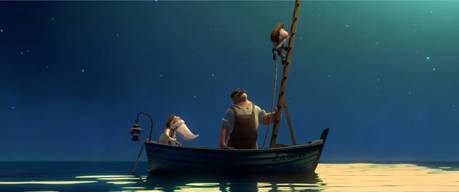 Do they know they're the inspiration for that story?
ENRICO CASAROSA :    My grandfather's long passed, but my dad has enjoyed the short and we've had some good chats about it.  He's, he's  told me -I didn'tknow that you felt that so much.
That you were so affected?
ENRICO CASAROSA :    Yeah, and then he proceeded to tell me all the things that were wrong with my grandfather, [LAUGHS].
The reason that you felt that way was because of him, right?
ENRICO CASAROSA :    Well, you know, I didn't think I would fix themwith this short, but as I'm saying, maybe I made them get along for a little bit, [LAUGHS].  But then I thought it would be fun to put these kind of slightly, mundane things with very fantastical things.  So, I thought that  it'd be really fun to think of janitors.  What could janitors on the moon be doing?
It's a very mythical setting but it'd be fun if what they're doing is actually quite mundane, you know?  So that was a little bit  the fantastical story that I put together with this more personal story.
 It was beautiful.  It was adorable
ENRICO CASAROSA :    Thank you.  I have a four year old daughter and I thought a lot about a sense of wonder, a little bit of, a sense of slowly showing  cards and making people curious,and kids curious.  I thought about kids a lot in making it because I enjoy even as an adult things that make me feel like a kid a little bit.  So,I thought it'd be in first important to give a nice message to the little ones like trust your instinct.  Just go for it.  And then for us  older guys and girls to feel a little bit like kids again for five minutes.
How long did it take to make?
ENRICO CASAROSA :    Nine months of production, then I was on it a little bit longer than that, but the full production was nine months.
Tell me about when you found out you were nominated for the Oscar?
ENRICO CASAROSA :    [LAUGHS] It was really, uh, surreal.  They do it at 5:30 in the morning, so I put on a little alarm…
 So did you know it was perhaps going to happen?
ENRICO CASAROSA: Yeah.  We had been nominated for shorts before, so it's not outside, we were waiting for the news one way or the other.
 So you were up at five?
 ENRICO CASAROSA :    I woke up and  I let all my family sleep, but I made myself a coffee and I was in the dark in the kitchen, trying to figure out where they would put it because they don't really mention us little guys in the show.  You have to go look for it.  But once you find out…I love that moment of that quiet, personal moment of me and a cup of coffee.  Then it turned into text and then it's a mess, and  emails of all these people kind of congratulating me.
So I, I really felt great,  the feeling of a nomination feels wonderful, but,  the thing I remember the most is just the outpouring from all over the place, people coming through the woodwork to say hi and congratulations, which is really great, and that kind of strange quiet moment.
Don't forget that La Luna will be shown before BRAVE, which opens June 22nd!
While I was a guest of Disney/Pixar on a junket, all opinions are strictly  my own.