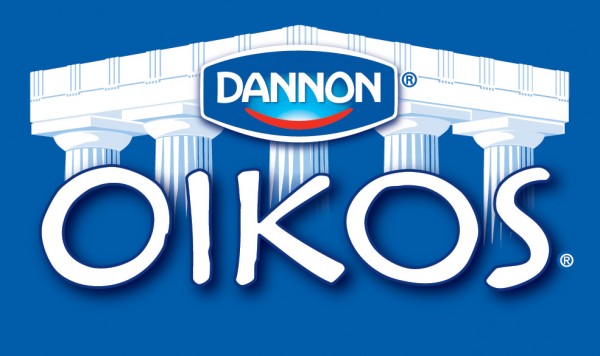 [js]
[/js]
Each Monday morning I seem to start a new diet program, only to "blow it" later that day. What doesn't change, and hasn't changed for MANY years is that whether dieting or binging I ALWAYS start my day the exact same way –
With a cup of coffee and a Dannon Oikos Yogurt.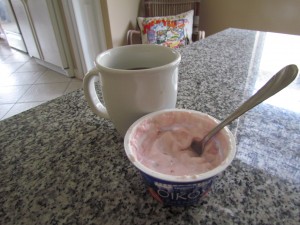 That's right, whether I'm being "good" or being "bad" I start the day the exact same way.  Of course, being a bit of a Dannon Oikos fanatic I also end my day the same way (minus the coffee). When my doctor told me to increase my dairy (I have osteopenia), I figured "what better way to get the dairy that I need?" and feel like I'm having a thick, delicious treat at the same time.
My GOAL is to lose a bit of weight and by starting  with a solid protein (Oikos Greek Nonfat yogurt has 12 -14g Protein (24%DV) while regular lowfat yogurt: 5g protein (10%DV) per 5.3oz.)  , I ensure a good start to my day. This creamy-thick nonfat yogurt,  made through a traditional Greek straining process contains twice the amount of protein of regular lowfat yogurt and 0% fat (with the exception of Dannon Traditional varieties).  Plus, I LOVE the selection of FLAVORS that Dannon Oikos offers.
The countdown to summer has officially begun and we all want to look and feel our best, especially during these months. However, exercising, and maintaining a balanced diet and healthy lifestyle can be daunting, but with the right tools it can be as easy as picking up a spoon! This spring, Keri Glassman and Dannon Oikos are encouraging you to 'Grab a Spoon 'til June' with rich and creamy 0% fat Dannon Oikos® Greek nonfat yogurt to help you stay on track towards your goals while at the same time adding spice to your normal routine!

Keri Glasman, author of the  book Slim, Calm, Sexy Diet has teamed up with Dannon Oikos to offer help with tips, recipes and more to help you & I get swimsuit ready –
Every Meal Is A "Monday Morning". Focus on eating better, one meal at a time. Otherwise it can be easy to get discouraged – forget the worry! Your only mission: Make the next meal you eat nutritious, balanced and satisfying.
Don't Eat Around A Craving. Honor your craving with a conscious indulgence – take a few deep breaths and find a healthy alternative! Try satisfying your sweet tooth with Dannon Oikos® Greek nonfat yogurt, it is nutritious but still has an incredible taste.
No-Excuses Exercise. Sometimes the biggest barrier to working out is just getting there so a good option can be to make it as easy as possible—throw in a workout DVD or even going for a walk takes away excuses and gets you moving!
Satisfying Proteins. A moderate-protein balanced diet with a reasonable amount of fiber, carbohydrates and the appropriate amount of healthy fats is the best way to maintain a healthy weight. Dairy is a great source of protein, try a creamy Greek nonfat yogurt like Dannon Oikos®–it has twice the protein of regular lowfat yogurt

.
Join me and Grab a Spoon 'til June with Dannon Oikos – which offers exclusive tips from Keri Glassman on how to help achieve a balanced diet; your weight management goals, exercise ideas, motivational messages to keep one on track, nutritious recipes and more! From nutritious foods to healthy snacks, Dannon Oikos and Glassman are your ultimate partners for shaking up one's routine. I'm ready to STICK WITH IT this time. 
For complete details check out
GIVEAWAY
Winner – Joan V. – East Moline, IL
Extra Entries
Follow me on twitter @zipporahs and tweet about this giveaway
Comment below with your tweet
Subscribe to Champagne Living,  follow me on facebook or twitter – all found on the sidebar (each counts for 1 extra entry)
Tell your peeps on your blog, facebook page or twitter about this or any post (each counts for 1 extra entry) and link to us.
Share this giveaway on any contest/sweepstakes/giveaway site for 5 extra entries..
This giveaway is open to US residents, 18 and over and ends on June 21, 2012
No purchase is necessary.
Odds of winning are dependent upon the number of entries received.
Void where prohibited by law
I have partnered with Dannon to help promote the Dannon Oikos Greek Grab a Spoon campaign.  I have been compensated for my time commitment to the program, which includes writing about the promotion and product.  However, my opinions are entirely my own and I have not been paid to publish positive comments.