"No woman can truly love a man who listens to Phil Collins."
Call me a dork, but Once is on my list of my 25 all-time favorite movies. Ben introduced me to Glen Hansard and Markéta Irglová and I've watched the film countless times. My rendition of Falling Slowly may send cats screeching, but that will NEVER stop me from singing (even if they do slam the shower door shut).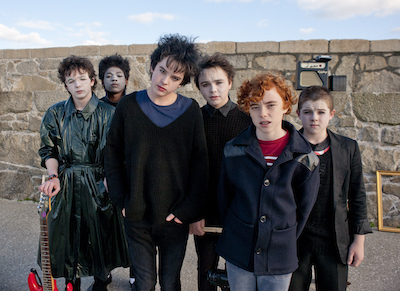 When I heard that John Carney was at it again, I was disappointed that I wouldn't be at Sundance this year for a screening of Sing Street. With all of the craziness going on here – travel, health, moving – I never got to catch it at the theater either.
SING STREET is finally out in DVD (thank you Anchor Bay)
While the story is easily recognizable – boy meets girl, boy tells girl he should be in his (nonexistent) band, boy starts band to impress girl. Carney's film set in 1980's Dublin (which seems to be the local of all great music movies) delivers more than expected.
Sing Street offers up another great coming of age flick some of which is lifted directly from the pages of Carney's life.
Music by:
Duran Duran
Motorhead
The Cure
The Jam
and more
Enter to win 
Sing Street on DVD
$100 iTunes gift card (that's a lot of '80's British rock)
US mailing addresses only.
Prize provided by Anchor Bay Entertainment.
Giveaway ends at 11:59 pm ET on August 10.
Good LUCK!


Find out where you can purchase your copy of Sing Street on Go Watch It
Sing Street dropped July 26 on DVD, Blu-Ray, Digital HD & On Demand