All of this running around has made my resistance a little weak and as a result I've been fighting a cold, add to that the fact that I came home from San Francisco to a house full of dishes and dust covering the mansion and I had to immediately get add a few items to my ever growing shopping list.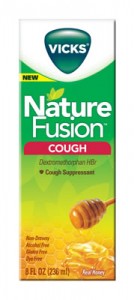 Vicks Nature Fusion Cough: It's inevitable that when I get run down, I get a chest cold. First it begins in my sinuses and then drips to the chest leaving me coughing throughout the day. The new Nature Fusion Cough with cough suppresant by Vicks is an alcohol free, gluten free, dye free, non drowsy cough medicine that allows me to keep going by providing relief from my cough with the added tough of honey (an age old cough remedy that is getting lots of attention again). I like to keep the medicine chest stocked so I'm not running out AFTER feeling miserable, so I'm grabbing the $2.00 off coupon for this as well as coupons on other Vicks products (all available online).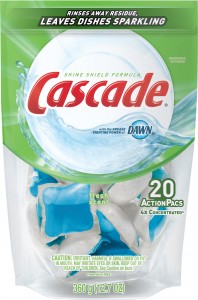 Cascade Action Pacs: It's my own fault. If I had left these little packs that need no measuring and can be dropped into the dishwasher with no fuss, then I'm sure the dishes would have been done. I swear, the simple act of pouring liquid detergent in is too much for Mr. S and after 31 years I should have known to stock up BEFORE leaving town. Plus, he has NO IDEA that you should rinse dishes out, so the  fact that these rinse away residue while leaving dishes sparkling powering away 24-hour, stuck-on food just means that I never have to worry when he's left in charge. Save $1.00 on Cascade with Dawn action pacs by visiting P&G Try-it.

Swiffer Duster Extender : Mr. S is 6'2″ then why is it that he can't reach the overhead fan in the living room? Because we've gotceilings that would normally mean schlepping out the ladder in order to clean the paddles. To make things easier for him (I rely on his height for this type of cleaning), the extending handle on this Swiffer Duster means that they'll actually get CLEANED. I love using it for dusting chandeliers and picture frames as well. If like me, you can't reach without grabbing a ladder, you can download a $2.00 off coupon at the P&G site as well.
For full information as well as lots of coupons – visit P&G Everyday Solutions
GIVEAWAY
Winner – Starr G. – Midvale, UT
Extra Entries
Follow me on twitter @zipporahs and tell me if/how your hubby helps at YOUR mansion
Comment below with your tweet
Subscribe to Champagne Living,  follow me on facebook or twitter – all found on the sidebar (each counts for 1 extra entry)
Tell your peeps on your blog, facebook page or twitter about this or any post (each counts for 1 extra entry) and link to us.
Share this giveaway on any contest/sweepstakes/giveaway site for 5 extra entries..
This giveaway is open to US residents, 18 and over and ends on April 22, 2012
No purchase is necessary.
Odds of winning are dependent upon the number of entries received.
Void where prohibited by law
I received product to facilitate this review. All opinions are strictly my own.