MSC invited me on a short press preview trip of the MSC Seashore. All opinions are strictly my own.
My husband and I love to cruise
It's one of the few things that we have in common (they say opposites attract). But, we each have different "must-haves" when it comes to a cruising vacation and it's not always easy for BOTH of us to hit what we want in a vacation at sea. He's quiet and relishes those moments alone, he enjoys a great meal in an upscale specialty restaurant, and if there's no espresso bar available, it's a HUGE deal-breaker for him.
Me? I love being around people at the pool, dancing on the deck & in clubs, want to taste food from the buffet to the specialty restaurants and I will stand in line behind 30 children to get that cone of ice cream. It's amazing that we've been married for over 40 years, we're so different.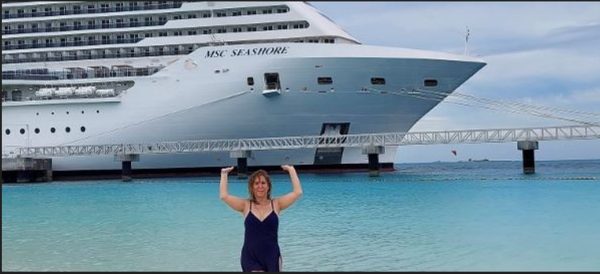 One thing we agree on is that we both love cruising with MSC
But, I found that the MSC Seashore is a VERY different ship than our first experience with MSC, the Divina. Not only is she much larger, with a capacity of over 4500 passengers, but the ship has more, more, more of everything. Yes, like the Seaside, you'll find a huge 4-floor atrium, and of course, MSC's signature Swarovski staircase that feels so elegant. The first thing you'll notice if you've traveled with this line is that this ship is more Americanized than the others. You'll find yourself smack in Times Square with the Statue of Liberty looming overhead as you look around at the billboards and even a digital ball drop after the shows à la New Year's Eve. All of this is just a hint of how this European line is trying to appeal to its American audience.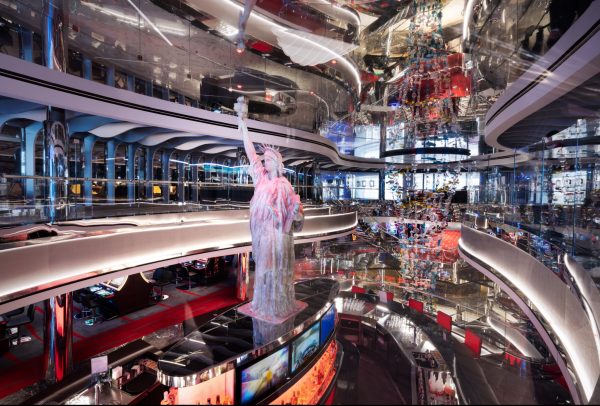 Glance shore to the back of this ship and you will feel like you're staring at a high-rise Miami condominium.
Family-friendly OR a great couples escape 
They say that you can't please everyone, but MSC has found a way to actually DO IT. They have taken an incredible European cruise line, added family-friendly features (without taking away the luxuries that I expect from MSC), and made it so no matter who you are, or what you enjoy, you can find it ALL ON THE MSC SEASHORE.
Pools, Pools &  m

ore Pools
Yes, there are a LOT of pools. The pools are smaller, but with so many options, the children can be enjoying the indoor/retractable roofed Jungle Pool (yes, it's completely jungle-themed), and you can be a  world away at the adults-only infinity pool on Deck 8 complete with lounge chairs set at the pool's edge. With 6 pools to choose from, you'll be able to find the spot that fits your day in the sun just the way you like it.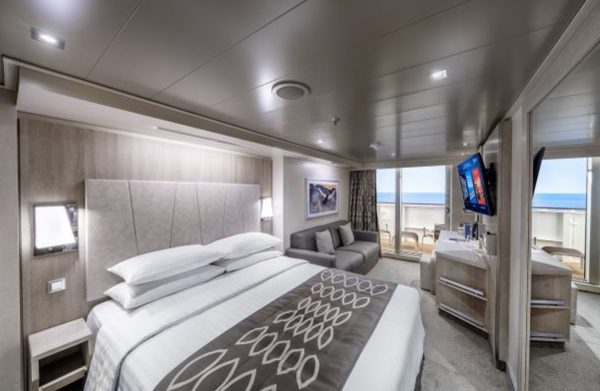 Staterooms
Just as the pools vary, so do the staterooms, with 11 types of staterooms in 15 different categories you'll find everything from cabins that connect rooms for larger families, to the MSC Yacht Club for a more exclusive "club" feel, complete with its own restaurant, lounge, and pool that only those staying in this private club complete with butler can access. It's definitely worth the upgrade to Yacht Club (although the balcony stateroom that I stayed in was well appointed and very comfortable). My favorite? I'm partial to the suites that have their own outdoor private whirlpools.
Food
I've been extremely vocal about my love of the food on all of the MSC ships that I've experienced. From the pizza made in authentic pizza ovens to the specialty restaurants, Marketplace Buffet, and main dining rooms, I've never had a bad meal on an MSC ship, and with 30 different eateries to choose from, even the pickiest eater can find food that they love.
I was like a kid in a candy store watching the sushi roll by on a conveyer belt at the Kaito Sushi Bar and my husband has an MSC favorite – Butcher's Cut for a great steakhouse meal. While we're talking candy stores,
I'm sure you saw our shenanigans at the Venchi 1878 Chocolate Bar. It was my traveling companion's favorite spot on the ship. So much so, that we did an entire segment on the bar on The Compass Girls Show! Hubby loves the coffee bar and I love the chocolates.
Entertainment
Theater buffs will love the full-scale shows that are hosted in the 1,200-seat Madison Theater. MSC has prepared 4 new and original full-scale theatrical productions, with three performances per night. You'll once again be whisked away to NYC with the live music, complete with elaborate costumes, and dance, all with amazing lights that feel like you've hit the bright lights of Broadway. Even with the size of the venue, there's not a bad seat in the house.
The casino has plenty of table games and slots available, and just like on the other MSC ships I've cruised you'll also find a 4D Cinema and Fi Simulator for that theme park experience (as well as a small bowling alley). As for the kids, there are clubs galore for them to enjoy including a kids' area with 6 futuristic space-themed rooms. For the older kids and a cinema, live TV Studio, and console room for gamers make for a fun day of creative play and activities that go into the "LATE NIGHT" for those 12-17-year-olds.
There is no shortage of bars and lounges whether you're looking for a pina colada by the Long Island Pool, dancing with a glass of bubbly in hand at the Garage Club., shooting a round of pool at The Sports Bar.
And then there's the Aurea Spa
Duck in for a day of pampering and while you're there bring him along, for a haircut and shave at the Barber Shop. There's even a Med Spa for a little freshening up! Work out in the gym, or better yet, take a Yoga class in the studio. Relax the remainder of the day in the Solarium! Now that's MY idea of a great day on the Seashore. Well, that and a walk around the Piazza shopping after where you'll find beautiful jewelry, watches, sunglasses and everything you'd expect to find when cruise shopping.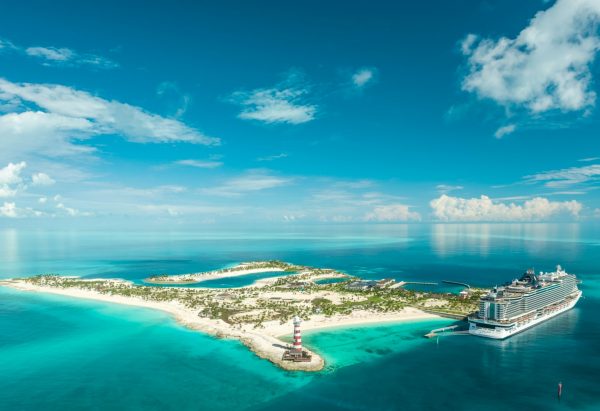 Ocean Cay

MSC

Marine Reserve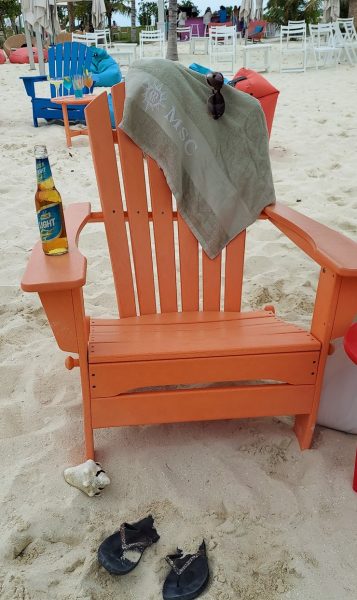 The island is a part of every itinerary. Ocean Cay is a stunning private island destination—formerly an industrial sand extraction site that has since been lovingly restored to pristine condition. After years of hard work, passion, and dedication, the island is now the centerpiece of a breathtaking 64-square-mile marine reserve designed to connect guests with nature, making it the perfect spot to take a deep breath and just relax. Ocean Cay is the perfect slice of paradise offering pristine white sandy beaches with chairs, umbrellas, and cabanas just waiting for a relaxing day of soaking up the spirit of The Bahamas while surrounded by sweeping panoramas of crystal blue waters at every turn. Of course, I LOVED the shopping (yes, there is shopping on Ocean Cay) and I came home with gifts, clothing and even a hand-dyed pareo that I use as a tablecloth (stunning).
Naming Ceremony
Safety
The MSC Seashore trip was the first time I've cruised in over 2 years. I have to say, that I felt completely safe. Not only were the staff wearing masks, but each elevator has foot marks for where to stand to keep 6-feet away and is fitted with Fincantieri's next-generation air sanitation technology. This next-generation air sanitation system will UV-C lamps, i.e. type C ultraviolet rays technology, applied in combination with the air conditioning system. The airflow prevents the circulation of air pollutants such as viruses, bacteria, and mold. In addition, all guests 5 and above must be fully vaccinated against COVID-19 and must submit a negative test before boarding. All children (2 years and older) independent of vaccination status must submit a negative test as well. All crew are fully vaccinated and regularly tested. I felt safer there than going grocery shopping (and I do that at least twice a week).
I will have more detailed looks at this ship in coming posts including the amazing Ocean Cay
But, don't wait because
MSC is having a great sale that includes free balcony upgrades, kids sail free, and MORE, starting at $219 per person for 3-nights from Miami.