Take your bedroom from 'blah' to 'amazing' with a splash of paint, warm lighting and sumptuous textiles. Even on the smallest budget, there are lots of design ideas and tactics that may change your bedroom into a space you would be delighted to show off.
Looking to give your bedroom a budget-friendly makeover? Here are some top ideas for redesigning tired-looking bedrooms without breaking the bank.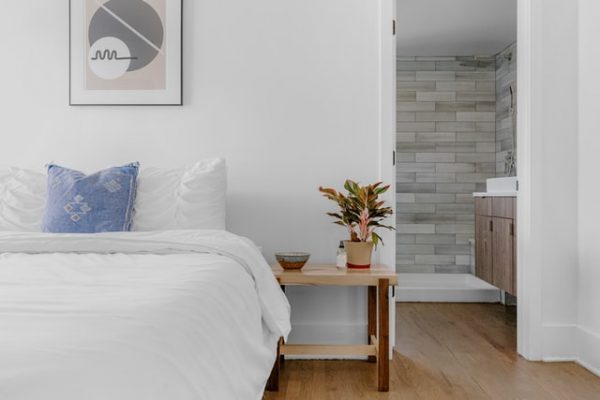 A fresh lick of paint
Refresh the look of your bedroom walls with a fresh coat of paint. Easy to accomplish over the course of a weekend, paint is a cost-effective and time-saving alternative for freshening up a drab room.
Do you require some interior design inspiration? Our best advice would be to concentrate on one wall to create a show-stopping focal point in the area rather than trying to cover every wall and ceiling, In only a few hours, you can completely transform a bedroom for less than $50 by painting it the color of your choice.
Make an investment in fresh bedsheets.
Beautiful new bed sheets — or even a blanket — can instantly transform your bedroom space. To create a hotel-worthy atmosphere, choose pristine white cotton with a contrasting and sophisticated piping border. Make a statement by experimenting with bright colors, bold designs, and brilliant textures. Fresh linens may not only improve the appearance of your room, but they can also help you sleep better at night.
Organize your belongings.
The act of cleaning and organizing your home is a great stress reliever, and prior study has found that getting rid of dust, mold, and other baddies may really improve the air quality in your home. Since the start of spring cleaning season is just around the horizon, now is an excellent opportunity to put on your plastic gloves and clear your bedroom.
You will not feel overwhelmed if you start with a tiny drawer rather than your entire wardrobe, for example. Creating a timetable might assist you in prioritizing work and preventing procrastination from taking hold.
Incorporate some greenery and plant life
With anything from little succulents to Instagram-worthy hanging plants, fresh greenery is an excellent way to bring life into your bedroom. The Snake Plant and the Spider Plant are two of the most effective air cleaning plants available. If you are having trouble falling asleep, calming plants such as Jasmine, Lavender, and Aloe Vera can make a world of difference. Purchase some nice shelves and Wooden shelf brackets and display them around your room.
Display your memories
By strategically putting frames throughout your home, you may proudly exhibit your favorite photographs and memories. Print out some of your favorite photos using one of the many free photo printing apps available and purchase some inexpensive frames to display them near your bed so you can remember the good moments.
If you have the wall space available, why not try a gallery wall design? It is a well-organized collection of images, posters, or prints that is a terrific way to inject some personality into your room.
Treat yourself to a new pillow and duvet
According to the National Sleep Foundation, you should change your pillow every year or two since they 'absorb body oil, dead skin cells, and hair' and should be replaced every year or two. A new pillow or duvet can help you sleep better and will also assist to relieve any aches and pains you may be experiencing. In little time at all, your bedroom will be transformed into a haven of tranquility.
Lights 
Fairy lights, wall-mounted sconces, and hanging festoon types may all be used to brighten up your bedroom. The appropriate lighting can breathe fresh life into your boudoir, making it a more comfortable environment to relax in. Changing the lighting may make a significant change in the atmosphere of your bedroom. Choose lightbulbs that are warm and gentle white to give a soothing yellow tint.
Create a nook
With so many people utilizing their bedrooms as workstations throughout the day, we recommend using curtains or voiles to section off areas of your bedroom. Draw a line under the working day by shutting the curtains on your desk.
Because many people have reported that it is difficult to turn off after work at the present, a physical barrier between work and home might be the solution to your difficulties. Curtains also do not have to conceal anything — create a luxurious hotel atmosphere by draping translucent curtains over your bed in a canopy design!'