This post was sponsored by Ling Ling, all opinions expressed in my post are my own.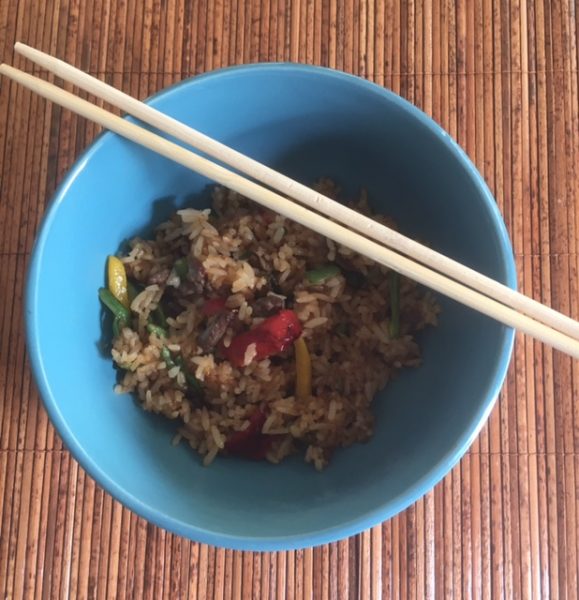 What smells so good?
As I was tossing our dinner in the wok this evening, he broke from watching TV just long enough to notice. "I'm making Fried Rice," I replied. He then asked if he could have a bowl NOW! Did I tell him that I had tossed a bag of Ling Ling Yakiniku Beef Fried Rice into the wok? Not at that moment. You see, I'm not the best cook. That's one of the reasons that I married  Mr. S, when we met he owned a restaurant and was one of the chefs.
Yes, I let him have some.
I had a second bag of Ling Ling Frozen Fried Rice as a backup in the freezer, so I was good. You see, each box of this wonderful Asian dinner comes with two bags…for larger families, or like me – a husband who can't get enough of this rice that tastes as good as our favorite restaurant. Plus, with the $2 off a box of Ling Ling Fried Rice available until the end of January, he can enjoy a different recipe every night this week.
How can a frozen fried rice taste this good?
Ling Ling uses a special infusion cooking method, to make sure that each grain of rice is infused with their delicious signature sauces. The outcome? An incredibly flavorful dish that tastes as good as takeout from your favorite Asian style restaurant. It's SOOOO good, that I dare you to taste the difference. I think it's actually BETTER than my local takeout, and it's quicker to cook than it is to get in the car and drive there (or worse…wait for delivery that arrives in an hour and is cold).
I've cooked it in the microwave and the wok.
My preference is definitely cooking it on the stovetop. I love the way the smell of garlic and sauces waft through the house as I'm tossing it. All it takes is a little vegetable oil and fry pan (or wok as I use) and I my house smells like I've been cooking for hours. Cough, cough…it takes 7-10 minutes to make a bag this way.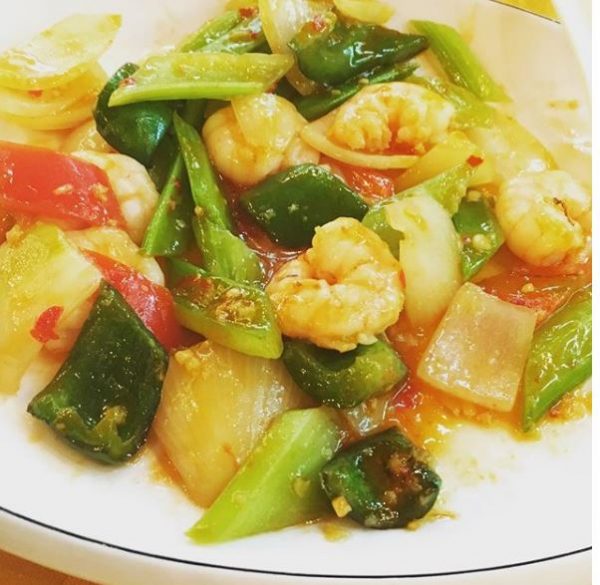 I paired it with my go-to stir fry shrimp
Ingredients
1 tsp oil for wok
1 lb medium shrimp – peeled & deveined
3 stalks celery
1 cooking onion
1 green pepper
1 red pepper
3 TBS soy sauce
2 TBS oyster sauce
1 TBS rice vinegar
1 TBS grated ginger
pinch sugar
Directions
Whisk together soy sauce, oyster sauce, vinegar, ginger & sugar – set aside
Slice in 1″ slices – celery, peppers & onions
Put oil in wok and turn stove to medium-high
Add shrimp and cook until pink
Add vegetables and cook until they are tender
Add sauce mixture until shrimp & vegetables are coated well and sauce thickens
Serve with Ling-Ling Fried Rice
The only issue with this product…
Is deciding which of the authentic Asian style fried rice inspired recipes from Japan, China, Korea and Thailand I want to try. With choices like:
Yakitori Chicken
Yakiniku Beef – what I'm cooking in the photos
Thai-Style Chicken
Chinese-Style Vegetable
Bibimbap Beef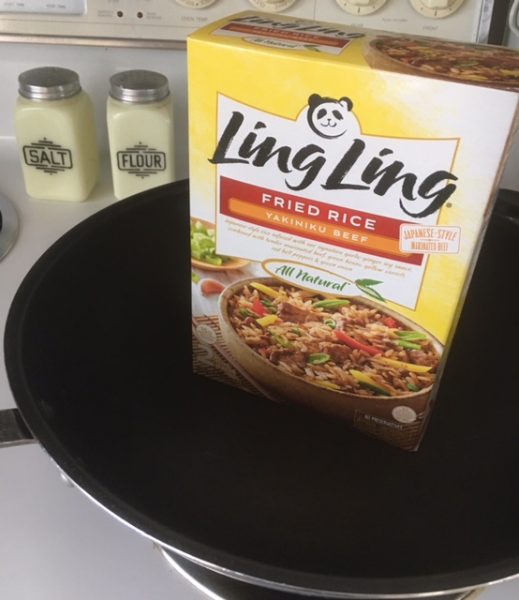 You'll want to try ALL of them.
Thankfully, we've got a coupon for $2 off a box of Ling Ling Fried Rice at any retailer where Ling Ling Frozen Fried Rice is sold (coupon expires on January 31, 2018).