I travel…a LOT. I also have a husband at home who tends to be old school when it comes to his dinner. He wants a meal on the table (or take-out) during the week. Because I'm gone so often, he relied on delivery while I was gone…in other words PIZZA. If I had a 3-night trip, it would be pizza, subs, pizza again. If I had a 5-night trip, it would be a larger pizza (leftovers for the next night), 2 subs (one for nights 3 & 4), and maybe, just maybe he'd go pick up Chinese food (our local restaurant does not deliver).
My homecoming meant
I had to call on my way home from the airport to ask what he wanted for dinner. Yes, even if my plane landed at 7pm and I had that 1 hour 45 minute drive from the airport I'd stop and either pick up something to cook, or take-out.
That had to change
Not only was he eating poorly, but after flying all day, the last thing that I wanted to do was shop and cook.
Then I learned about Top Chef Meals
Mr. S tends to be a picky eater, so loading up the freezer with the "usual" frozen dinners never worked. He didn't like the flavor, portions are too small, and he wanted REAL FOOD. I had been asked to review Top Chef Meals, so we sat down together to figure out what we'd like to have in the house. This gourmet meal delivery service offers freshly made dinners that are cooked to order and flash frozen the day before they are sent to you. With gourmet, Paleo, weight loss, senior, low sodium and diabetic options, I knew that he'd be eating the way that I prepared food at home.
Top Chef Meals Mission is to allow you to Cook Less, Eat Smart, Save Money 
We placed our first order
Both of us loved the idea of putting together our own meals, just as we would have at home. Mr. S HATES brussel sprouts and I love them. Now I could have them with my Salmon along with Sweet Potatoes, while Mr. S had Prime Rib it with Carrots and Smashed Red Skin Potatoes with Butter. The variety runs from Easy Order Packs to our favorite custom created meals.
Most dinners are less than $10 per meal
And ALL of them are less than going out for a nice dinner. I even ordered the family sized turkey dinner for us one night (it came with gravy) and ordered a side of mashed potatoes. Just like on Thanksgiving, there were leftovers for the next day. Expect to pay more for gourmet items like Filet Mignon and Salmon, as well as their premium line, and most of the breakfasts hover around $5 per meal.
Breakfast/Lunch/Dinner/Dessert
While I concentrated primarily on dinners, I did try one breakfast and a couple of desserts. I probably won't order dessert again, as I ordered the berry crisp and just wanted a scoop of ice cream on it and I am spoiled by real NY cheesecake and this didn't quite measure up.  Breakfast is an easy meal so I don't think that I'd order that again either, although it was great to be able to just microwave my eggs, bacon and potatoes before running to the airport in the morning.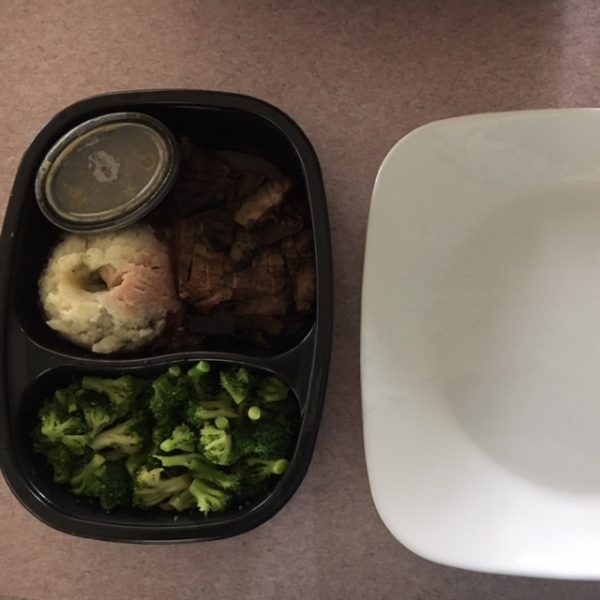 Meals arrive pre-portioned in microwaveable containers, although you can also heat them in the oven. As I expected some of the dinners were better than others, and I think you'd need to order a variety to find your favorites for reordering.
Meals are sent frozen (I ordered 8 dinners so this was perfect) or can be sent refrigerated for a small fee depending on how far you live from their NY facility.
My take?
I love the convenience of having a homecooked meal that I didn't have to actually cook myself. I also think that these are perfect for single seniors, to make certain that your parents/grandparents get a well balanced meal without the work. I also told my single neighbor about them, as he does a lot of take-out foods (he doesn't cook much) and has been looking for a food delivery service.
I also compared ordering these meals vs my weekly grocery budget and ordering from Top Chef Meals saved me money. It also helped not having a lot of extra junk food in the house to binge on, so it's a great option for those wanted to lose weight (and yes, the weight loss meals are delish).
WINNERS
My favorite meals were the salmon, chicken pot pie and chicken cordon bleu.
LOSERS
I was not a fan of the French Toast (too thin) or the desserts and I don't think I'd order the dry rub ribs again, as reheating them really dried them out.