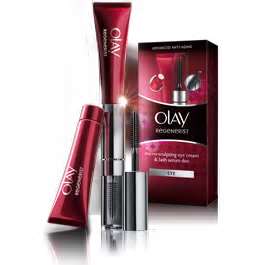 Lately I feel like I've been taking one step forward and two steps back. But, I'm not letting ANYTHING stop me from looking better. Don't they say that LOOKING GREAT IS THE BEST REVENGE? So, even though I haven't been feeling myself for almost 6 weeks, it doesn't mean that I stopped taking care of myself.
OH NO – absolutely NOT!
As a matter of fact, I've taken the time to ADD to my anti-aging and beauty routine thanks to my partnership with P&G brands. For the past week I've been using Olay Regenerest micro-sculpting eye cream & lash serum duo twice daily to firm and brighten my eyes. Here…take a look at how I'm doing it
Olay Regenerist's  Micro-Sculpting Eye & Lash Duo is the first eye cream and lash serum product with a dual applicator designed to provide a 360˚ eye care solution treating lids, lines and lashes for a total eye transformation. I love the all-in-one product that gives visibly softer-looking lines, firmer eyes and coats to thicken lashes for younger-looking eyes, and you'll be able to see the difference in ONE WEEK! The ingredients in this eye duo actually energizes the turnover of your surface skin with two new anti-aging ingredients – Olivem and Lys'lastine.  So it's BYE, BYE crow's feat, crepe lids, and HELLO thick lashes and firm, plump eyes.
PLUS – in honor of Olay's new WOW! Eye Facebook application
Olay® kicked off a Times Square activation both last weekend and again THIS one:  May 18th-May19th and YOU can be a part of it.
Simply go to Olay's facebook page & click on the WOW! application
Upload your favorite eye looks via the Facebook app.
Have YOUR eyes displayed on a jumbotron in Times Square!!!!!!
Don't worry if you're not in NYC to see it because,  Olay will capture your 15 seconds of fame for you to be able to upload as YOUR Facebook cover photo.
I think that's pretty awesome
Personally, I think that at under $25 – it's a STEAL!
For more information on this and other great Olay products visit:
I received product & compensation as a P&G Blogger Brigade ambassador, of course all opinions are strictly my own….I mean, just look at the P&G stuff that fell out of my makeup bag that I BOUGHT.