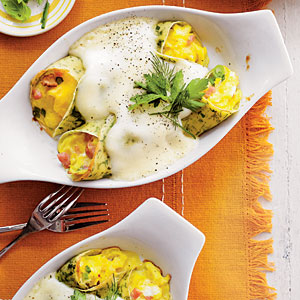 Scrambled Egg and and Crêpe Casserole
"Scrambled Egg and Crêpe Casserole is our new brunch favorite. Homemade crepes (that you can freeze ahead!) are wrapped around ham-and-cheese scrambled eggs and smothered in an rich cheese sauce—definitely company-worthy!" – Shannon Satterwhite
Southern Living magazine has done it again, by creating an absolutely DELIGHTFUL dish to serve the girlfriends when they come over to dish over brunch. This Scrambled Egg and Crêpe Casserole takes a little work, but is worth every single bite.
Ingredients
3 tablespoons butter, divided
1 cup finely chopped baked ham
1/2 cup thinly sliced green onions
14 large eggs, beaten
1/2 teaspoon table salt
1/2 teaspoon freshly ground black pepper
Cheese Sauce (see below)
Fresh Herb Crêpes (see below)
Preparation
1. Preheat oven to 350°.
2. Melt 1 Tbsp. butter in a large nonstick skillet over medium-high heat; add ham, and sauté 3 to 4 minutes or until golden brown.
3. Remove from skillet, and wipe skillet clean.
4. Melt remaining 2 Tbsp. butter in skillet over medium-low heat. Add green onions; sauté 1 minute. Add eggs, salt, and pepper, and cook, without stirring, 1 to 2 minutes or until eggs begin to set on bottom.
5. Gently draw cooked edges away from sides and across bottom of skillet to form large curds, using a spatula.
6. Repeat procedure, cooking until eggs are thickened but still moist (about 6 to 7 minutes).
7. Remove from heat, and gently fold in ham and 2 cups Cheese Sauce.
8. Spoon about 1/3 cup egg mixture down the center of each crêpe; roll up.
9. Place in a lightly greased 13- x- 9-inch baking dish (or divide among smaller dishes).
10. Spoon remaining Cheese Sauce over crêpes.
11. Bake at 350° for 15 to 20 minutes or until sauce is bubbly.
Cheese Sauce
Ingredients
1/3 cup butter
1/3 cup all-purpose flour
3 cups milk
2 cups (8 oz.) freshly shredded sharp white Cheddar cheese
3/4 teaspoon table salt
Preparation
1. Melt butter in a heavy saucepan over medium-low heat; whisk in flour until smooth.
2. Cook, whisking constantly, 2 minutes.
3. Gradually whisk in milk; cook over medium heat, whisking constantly, 5 minutes or until thickened.
4. Remove from heat, and whisk in cheese and salt until smooth.
Makes about 4 cups
Fresh Herb Crepes
Ingredients
1 cup all-purpose flour
1 cup milk
3 large eggs
1/2 teaspoon table salt
1/2 cup chopped fresh herbs (such as parsley, chives, basil, and tarragon)
Vegetable cooking spray
Preparation
1. Whisk together first 4 ingredients until blended.
2. Cover and chill 1 hour.
3. Stir in herbs.
4. Coat bottom of a 6-inch crêpe pan or heavy skillet with cooking spray; place over medium heat until hot.
5. Pour a scant 1/4 cup batter into pan; quickly tilt pan in all directions so batter evenly covers bottom of pan.
6. Cook 1 minute or until crêpe can be shaken loose from pan. (Do not turn crêpe.)
7. Place crêpe on a dish towel to cool.
8. Repeat procedure with remaining batter, coating pan with cooking spray between batches.
Note: To make ahead, stack cooled crêpes between sheets of waxed paper, and place in a zip-top plastic freezer bag. Store in refrigerator up to 2 days.
Makes about 1 dozen.
Total prep & cooking time: 2 Hours, 30 Minutes