To do list before heading to the beach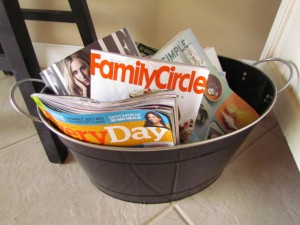 1. Put on bathing suit, cover-up & flip-flops.
2. Grab a big hat (I already have PLENTY of sun damage…no need to do more).
3. SPF 50 suntan lotion (see above)
4. Take water out of the FREEZER (so it's still cold when I'm at the beach)
5. Sandchair and towel into the trunk
6. Grab a magazine
7. RELAX
While I enjoy nothing more than relaxing with a good book on the beach, if I plan a day of frolicking (do we actually frolic at our age?), walking on the beach, going in & out of the ocean, I generally take a magazine. It's easier to actually COMPLETE an article, or even more important – I always seem to be in the right FRAME of mind for a little fashion or beauty advice when my face and body are  exposed like this.
I tend to get ALL of my magazines by subscription, and because I subscribe to so many of them…I'm always on the lookout for a good deal. While I can't bring the beach to you, I can share some great ways to find magazine deals online.
Visit the magazine's website and look for any free trials or 'online only' deals. You may be able to sample it without having to commit to a subscription. Don't forget to check freebie sites like Just Free Stuff or Sweeties Freebies for completely FREE subscriptions.
If you're a current subscriber, it often pays to let your subscription run out, then re-apply for a new one. Magazines typically offer lower 'teaser' rates to entice new readers than their renewal rates for existing members.
Check Magazines.com for deals on any magazines that interest you. There's a good chance that there's a better offer at their website than you'll find elsewhere. Subscriptions come with a 100% money-back guarantee. If you're not completely satisfied, magazines.com will refund for all undelivered issues.
Amazon.com – Magazine subscriptions at Amazon can save you lots. Advertising up to 90% savings on best-selling magazines, it definitely pays to look here before buying. Browse by price, Promotions or Featured Categories.
Best Deal Magazines – Another discount magazine website, with offers as low as $4.69 for a one-year subscription. There's also a section where free subscriptions are available and a featured deal-of-the-day.
Ebates.com – Members can take advantage of savings on numerous products, including books and magazines. Check here for discount offers, some of which can be combined with offers on other sites like Magazines.com.
MagazineLine – Search for deals by category, alphabetically, check for special offers and peruse gift ideas. MagazineLine guarantees the lowest prices, offers a buy now-pay later plan, with no credit card required to purchase your subscription.
Subscription.com – Boasting a selection of over 2,000 magazines, this site promises to save you up to 90% on subscription rates. Subscription.com allows you to save subscriptions for comparison with other offers in order to find the best deals available.
Check for online subscription rates at the magazine's website. It may be cheaper to download the content you're interested in rather than purchase the entire print magazine.
Share subscriptions. You could save money by swapping magazines with someone else. If you're not concerned with archiving a stack of 'zines you've already read, consider trading them to someone else for some of their issues of another mag. That way, you'll both save on a subscription.
So with a little research on your part, along with a few bookmarked sites that we've kindly provided, you can manage to save a bundle on your favorite magazines.
Thank you to Cheapest Service for all of the great ideas!