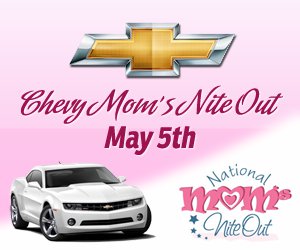 What happens when you mix 9 FABULOUS bloggers, the HOTTEST cars on the market, a day at a luxurious spa, an Italian dinner, followed by an evening of dancing, drinking, stores, and gifts at the mall?
Thursday evening was National Mom's Nite Out at Malls all over the country. To celebrate and prepare for the event, I was invited by GM of the Southeast to drive their newest cars, including the HOT new Chevy Volt. I've been wanting to get into that car for a while now, and luckily we were some of the first people to drive this plugged in vehicle that was named Motor Trend's 2011 Car of the Year. As a hybrid driver, I wanted to FEEL the difference of this electric/gas car. I was amazed at the smooth transition from electric to gas, the high tech dash, GM's signature OnStar service and the comfort that you usually don't have in a compact car.  I have 3 words – I'm a FAN.
I was equally enamored with Chevy's low priced Cruze that offers exceptional gas mileage for an all-gas vehicle. The Cruze that we drove had luxurious leather seats, that you sink into like a good sofa. Comfort, style and value all wrapped into a car that looks less like a compact car and more like a sporty performance car. I'm glad "B" wasn't there, or he would have bought it on the spot.
We hopped into our cars and took off for the Contour Day Spa in Plantation for hair and makeup, and a visit to Dr. G's Weightloss Center. This was by far the LARGEST spa with more treatments, and ways to pamper than I have ever experienced (I believe they said that the spa was around 27,000 square feet). My hairdresser, Jimmie worked his magic on my short styling. WOW…it's amazing what a hot guy with a smokin' body and a great attitude can do with a little bit of hair. Then it was into the makeup chair where Rally made me feel like a movie star. Finally, it was upstairs to Dr. G's for a dose of hard reality (not the best thing before you're planning on a LARGE Italian meal).
Coiffed and glamorous we headed to Carabba's for a meal that made me forget about that number on the body fat scale. Good food, great conversation and new friends….now THAT'S a way to treat a lady. We were gifted with swag bags both at the spa and from GM.
Next we drove over to the Boca Town Center Mall to partake in Dancing with the Mom's and National Mom's Nite Out. Raffles, wine, appetizers, swag and hundred's of mom's dancing with Fred Astaire studios and celebrating being a mom.  It was one of those nights that you don't want to end.
Our final stop was where we began…Maroone Chevrolet of Fort Lauderdale to say goodbye to the Chevy vehicles and drive home.
Thank you to Heather Lopez Enterprises for arranging this wonderful evening as well as GM of the Southeast and all of the company's involved.
GM of the Southeast provided this wonderful evening, all opinions are strictly my own.