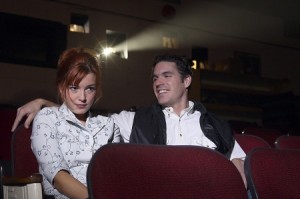 I'm lucky enough to have a group of wonderful girlfriends that I can spend time with, chat on the phone, skype and on occasion travel with. Some of them are married, some widowed, and some are VERY single. I love hearing the war stories of trying to meet men. My friend "S" up in Rhode Island always delights me with her hysterical tales of men met on online dating services gone terribly wrong.
This led to me to think about the best way to DITCH a DATE….gracefully of course. I mean, you don't want to hurt anyone's feelings (although "S" tends to be blunt and to the point when things just aren't working out), and you never know…he might have a friend that could be "the one."
Here are four ways to ditch your date that are time honored and trusty….
1. Get sick. NOT REALLY, but a simple "I don't feel very well" during dinner can easily be blamed on the food or drink.
2. Run to the ladies room, grab your cell phone and call your girlfriend (that's ME). Ask her to call you back in about 10 minutes with an emergency. Of course, this requires a bit of creativity, because you don't want an emergency that might come back to haunt you (like someone died, because you know they'll walk into the restaurant a minute later….those things always happen to me). A simple "there's a crisis at home or work" helps. That way you can apologize, neither of you is hurt, and if one day you realize that he wasn't as bad as you thought – you haven't burned your bridges.
3. If it's just not working – SAY IT. Whatever it is that just doesn't feel right, he's probably feeling as well. You have 5 cats and he has a Pit Bull, I'm a Democrat and you're a Tea Partyer =  this will NEVER happen.  Make light of it, saying how nice he is, but it doesn't seem like we really click EARLY on will make it easier on both of you.
4. Don't make promises that you have NO INTENTION of keeping. That's just mean. Saying "I'd love to see you again" when you're thinking "when hell freezes over" isn't fair. A simple, "it was nice meeting you" and leave it at that is a nice way to end things. PERIOD.