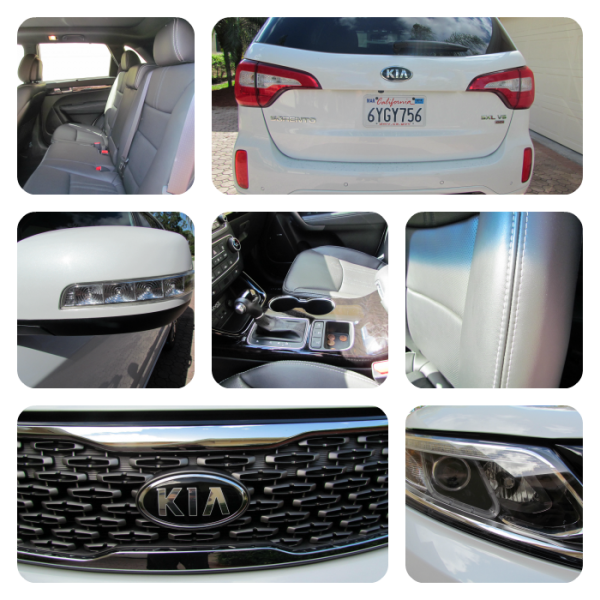 Last year….well, maybe it was LESS than a year ago, I hopped into a burgundy colored Kia Sorento and took it for a spin. I took it for a LOT of spins, but no matter HOW many times I drove it I knew that it wasn't a car for me. It didn't have that Champagne Living appeal that I look for.
Good looks
Great sound system
Luxurious leather with DETAILING
A drive that feels like a luxury car
QUIET – there's nothing worse than road noise
When I was asked to take the new 2014 Kia Sorento for a test spin, my heart sunk. I knew that I was reviewing two other cars with the same company, so how could I say NO? I mean the last time I did this, I hid behind a recipe (and if you've had ever had dinner at the mansion, you know that's a THIN veil to hide behind). Did I mention that I had JUST gotten done driving a car that I KNEW I could buy?
When Luis came with the switch from one car to another (I test drove three cars in three weeks), he saw it in my face – first disappointment that they were taking a car that I loved away, followed by a look that said "This is a Sorento?" That was JUST the beginning. From that moment I became a fan. I had to eat my words about not being a Kia fan, because the 2014 Sorento is NOT a Kia, it's a luxury crossover built in America with posh European styling.
What's Different?
Exterior – The changes from 2013 to 2014 are DRAMATIC. This no longer looks like "mommy's car." It's bigger, badder, and BOLDER!
Interior – The look of luxury abounds with the beautiful Nappa leather and top stitching (you know how I love good top stitching) that is detailed right down to the gear shift knob. With features that you'd find in a more expensive car like the upgraded center console design and a sweet screen to access just what you need at your fingertips via the . The nav system is FUN and easy to use, and includes satellite radio, bluetooth and  real-time traffic data and rear view camera display. Since Mr. S is 6'2″ and I'm 5'1″ the memory seats are a KEY selling point for us.
Ride – Bring it on…this Sorento is smoother, quieter, and hugs the road with ease. The tighter drive makes it a lot more fun, and frankly with a large car like this, it just feels safer.
Etc. – The push button tailgate made my job SO much easier. At 5'1″ I have a difficult time closing them usually. With the push of a button on my key fob, I was able to close the liftgate and walk away. There's that extra row for when EVERYONE wants to pile in. Then again, this made for a little less legroom than Mr. S likes (at 6'2″) in that back row, so he's up front with me. With enough airbags to protect all of the passengers,  rollover sensors, and a anti-lock braking system, even people who are in the car when I'm at the wheel will feel safe.
Gotta haves – Love having a panoramic sunroof, it feeds my need for a convertible…what can I say? Oh, and did I mention the blind spot monitors? I had NO clue what they were when I first got in, but grew to RELY on them when on the highway. I love knowing that someone's in my blind spot BEFORE I turn and look. And then there's the INFINITY sound system with TEN speakers, thank you Kia!
Needs – I do miss the land departure warning, because I drive at night so often, and I'm spoiled by driving a hybrid so the 19/24 mpg was a little tough on the wallet. Then again, I'm not usually driving a crossover vehicle.
Affordability – Granted I was in the upper end model, but you can get into this car beginning at a reasonable mid-20's price.
FOR MORE ABOUT THE KIA SORENTO