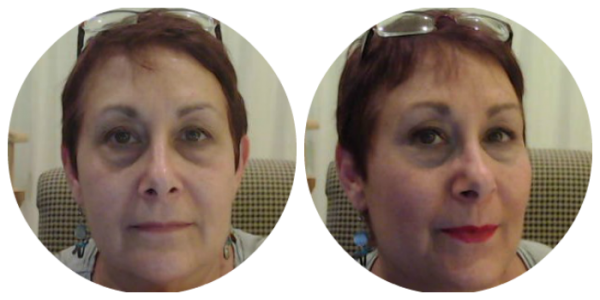 I have a love hate with this time of year. Yes, I go to lots of parties year round, and while I dress for the occasion I rarely go overboard with my makeup. I'm more of a keep it simple gal. When Condé Nast and Mary Kay challenged me to create one of their holiday looks, and sent me a BIG box of gorgeous cosmetics, I took a deep breath, turned on my web cam and decided to show you just how I go from plain Jane to glamour gal in less than 20 minutes.
I know that's long for a video, but as always, I made some mistakes along the way. I hope that you learn a little something, have a few laughs, and PLEASE leave me some of YOUR how-to tips in the comments. I'm trying to fake it til I make it, 'cause not everyone can have a personal makeup artist.
The Inspiration: 
Sleek and sexy 1970s style; menswear-inspired but still feminine.
The Glam is all in
The winged eye liner and FIRE red lips.
Grab your popcorn and watch how I transform my look
Products included in my kit
Mary Kay® Mineral Eye Color in Sweet Cream, Chocolate Kiss, Copper Glow
Mary Kay® Cream Eye Color – Beach Blonde
Mary Kay® Mineral Cheek Color in Shy Blush
Mineral Bronzing Powder- Desert Sun
Mary Kay® Liquid Eyeliner in Black
Mary Kay® Lash Primer
Mary Kay® Foundation Primer Sunscreen Broad Spectrum SPF 15
Lash Love® Lengthening™ Mascara in I ♥ Black
TimeWise Age-Fighting Lip Primer
Mary Kay® True Dimensions™ Lipstick in Firecracker
Mary Kay® Lip Liner in Clear
NouriShine Plus® Lip Gloss in Rock 'n' Red
Mary Kay® Translucent Powder
Mary Kay® Makeup Finishing Spray by Skindinävia
MaryKay® Compact (unfilled)
Mary Kay® Oil-Free Eye Makeup Remover
Mary Kay® Brush Collection
Mary Kay® Cream Eye Color/Concealer Brush
For this look and more
Go to Mary Kay Holiday Looks
To purchase any of the items in my makeover
Go to: Shop Only
Or call your Mary Kay consultant
Products in this post were provided by Condé Nast and Mary Kay. Everything else came from my own two hands.