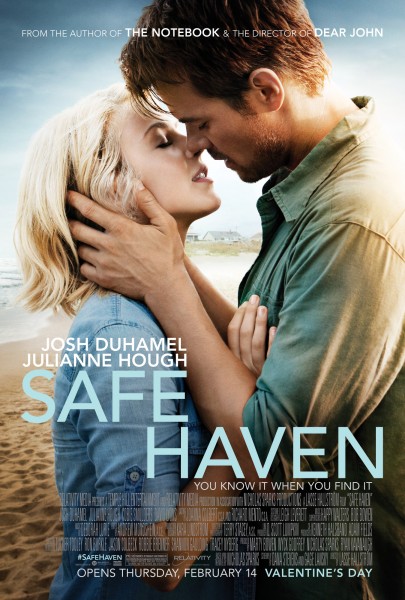 Ahhh….Southport, NC. A quaint coastal town that I could SO see retiring in. It's like a piece of Americana has frozen in time with general stores, people who smile at you on the street and a simple, quiet way of life. Well…it wasn't EXACTLY quiet when I visited this past summer, because the town was the backdrop of Nicholas Spark's latest book to hit the big screen Safe Haven.
An affirming and suspenseful story about a young woman's struggle to love again, Safe Haven is based on the novel from Nicholas Sparks, the best-selling author behind the hit films The Notebook and Dear John. When a mysterious young woman arrives in a small North Carolina town, her reluctance to join the tight knit community raises questions about her past. Slowly, she begins putting down roots, and gains the courage to start a relationship with Alex, a widowed store owner with two young children. But dark secrets intrude on her new life with such terror that she is forced to rediscover the meaning of sacrifice and rely on the power of love in this deeply moving romantic thriller.
Now, I'm going to admit that I had NEVER read a Nicholas Sparks book before Safe Haven. I don't do romance, and I had made an assumption based on….well, NOTHING. I just had this preconceived notion about him and I'll admit when I was wrong. I read Safe Haven before going on this junket and it was an easy, quick read that  was more than just a simple love story, it was MUCH less sappy than I had imagined, and the constant twists and turns coupled with the element of suspense made it an exciting read.
I was interested in talking to Mr. Sparks, to get a true handle on how he writes and why so many of his books end up as major motion pictures. Of course, I was JUST as interested in the movie (but like you, I have to wait til it comes out to see it).
Lucky me
I got to sit down over hush puppies and a glass of wine with Nicholas Sparks while our group asked questions quite casually. I've done MANY celebrity and author interviews, but never one like this. Mr. Sparks let us in on HOW he began writing, how he approaches each new novel, and how he handles his role when it comes to his books being made into screenplays.

CL: So many of your books get translated to film, when you're writing books, do you ever have a certain actor in mind when you're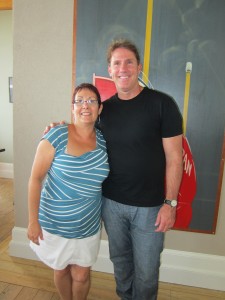 writing the part?
Mr. Nicholas Sparks: As a general rule, the answer to whether I envision a particular actor, the answer's no. But, that's as a general rule. There's always exceptions to the rule.
When I wrote The Last Song, for instance, I knew it was Miley. I knew it was Miley 'cause I'd already written the screenplay, and the screenplay had already been green-lit by the time I started the novel. So, I knew it was going to be her, but I didn't know it was going to be Liam. So, as a general rule, no.
CL: How difficult is it to watch another screenwriter adapt your work?
Mr. Nicholas Sparks: It is what it is.  I don't have to sell it. You know, that's my choice. That's my power as an author. I choose to participate in this world. And the simple reality is that films are a very collaborative process.
I know that going in that you're only one part of a team. I have to say that I am very fortunate in that my opinion is weighed fairly heavily. And yet I also understand that they're very different mediums, and you can't do everything. They're not just going to film the entire book.
The other part is that I make a conscious choice to limit my involvement at times because, if my thumb is the dominant thumb on every project, everything feels the same, now, doesn't it? But, you want The Notebook to feel different than A Walk to Remember to feel different than The Last Song. I want that because I want you to enjoy all of them.
I want you to enjoy Safe Haven. But, I don't want you walking out of there saying, "Man, that was just like all the other ones," either. So, you have to let someone else create. Making that decision is more important than, "Do I get my way?"

CL: So what sparks your next project? Do you visit different places and then say, "Hey, this would make for a great story," and then build it up off that, or how does that work for you?
Mr. Nicholas Sparks: It doesn't work like that. It's not setting first. The first decision I make is the age of the characters because my readers are so varied in age. They're 16-year-old girls, massively popular among the teenage set, and I'm massively popular among the 30,s, the 40,s, the 50,s, the 60,s, the 70,s, and the 80,s. If your readership is that big and you're trying to keep them all happy, you kind of have to roll through the age groups.  I know that if I had The Last Song about teenagers, and then Safe Haven was 20's, maybe 30's.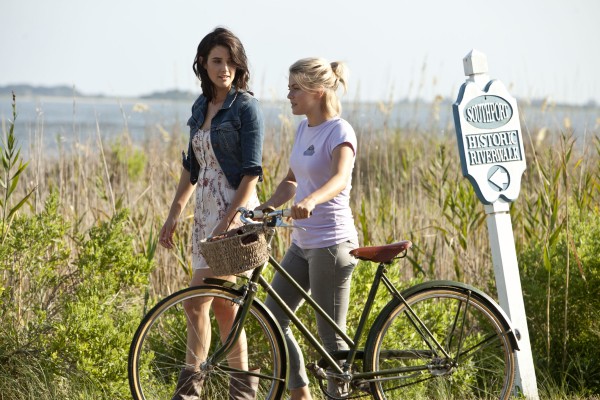 With Safe Haven, you're really trying to do female friendship between Jo and Katie. It doesn't matter how old you are, people will relate to it, even though they're characters in their 20's and 30's. You know, that's what's on TV. People are used to kind of relating to that and things in their own life. So, that's the first decision. It's not setting first.
Then you go through who are they? What are some dilemmas at this age that people can be facing? What haven't I done before? What haven't I seen in movies? What's new? How can I make something old new again? How do the characters meet? What keeps them apart? What's the conflict? Why can't they be together if they love each other because, without conflict, you have no story.
So, why can't Alex and Katie be together? Because she's not Katie. She's got secrets. That's on her end. And then what about him? He's got kids.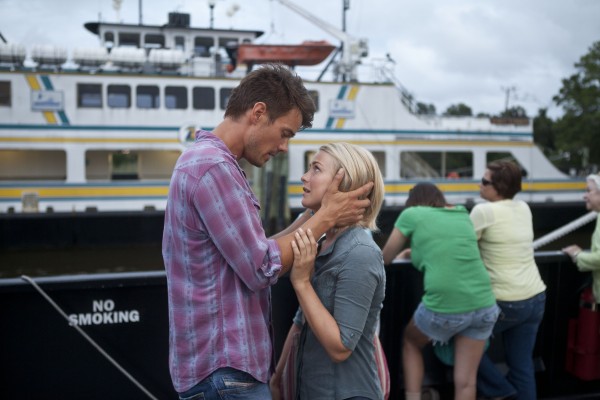 CL: How did you get into writing? when did you know that this is what you wanted to do?
Mr. Nicholas Sparks: I'd always loved a good story, got into it on a whim to see if I could do it, to see if I could write a novel. So, I did that at 19, another at 22 and, at 28, kind of had a midlife crisis, didn't know what I was doing with my life. I just said, "Okay. I have to chase a dream," because I was a sales rep. I just knew that I felt like I wanted bigger and better things. So, I said, "Well, what can I do? I'm married. I've got two kids. I've got a mortgage. I can't do something stupid. What can I do, still keep my job, full-time job, do on the side?
"Well, I'll try writing again and give it a real shot." And that became The Notebook.
Safe Haven opens in theaters on February 14th 
I'll have to see it when I get back from my trip. If you see it BEFORE me, let me know how you liked it!
For more information on SAFE HAVEN