Goals – Resolutions – Bucket Lists
Whatever you call them, they are a pathway to do all of those things that you've always wanted to. It's the gateway to a true life of Champagne Living, and if you write a LIST, create a VISION BOARD, or simply DREAM about the things that you want to do…it's TIME TO DO THEM. The question is, how do you decide exactly WHAT to do and WHEN to do it?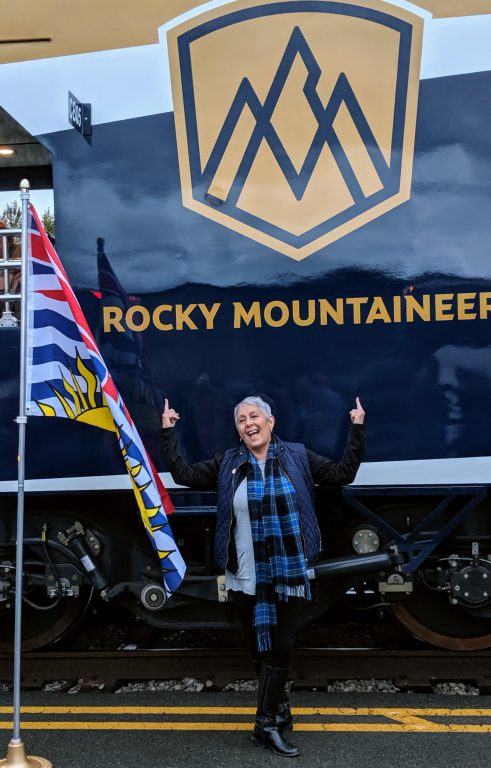 Rocky Mountaineer Turns 30
One of my favorite bucket list vacations – Rocky Mountaineer is having a major anniversary this year. I have spent time enjoying luxury train travel with them three times, and it is by far one of my top 5 must-do experiences for anyone who wants to take in the magnificence of the Canadian Rockies from in the most luxurious way. Everyone should have at least a FEW luxury train travel experiences on their bucket list, and if your includes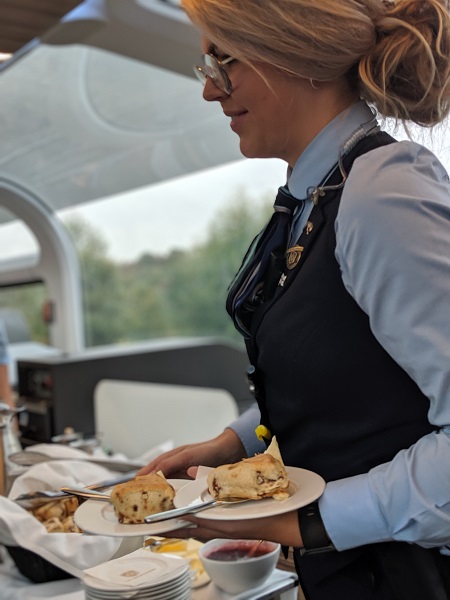 Luxury train travel with white linen food service
Fabulous Okanagon Valley wine and beers
Snowcapped mountains
Eagles, sheep, and bears (oh, my)
Gorgeous cities and towns like Banff, Vancouver, and Kamloops
Small hotels, luxury hotels and mountain lodges (based on your trip & preferences)
Gourmet meals prepared to order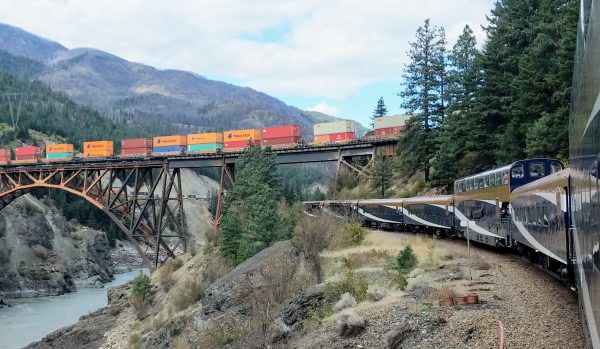 Canadian Train Travel
There's something almost magical about the Canadian Rockies train, especially when experienced in GoldLeaf Service as you gaze out of the beautiful glass-domed railcar. You'll be seated in a luxurious recliner with heated seats, lumbar support and USB and electrical outlets to keep your electronics fully charged and ready to capture magnificent photos.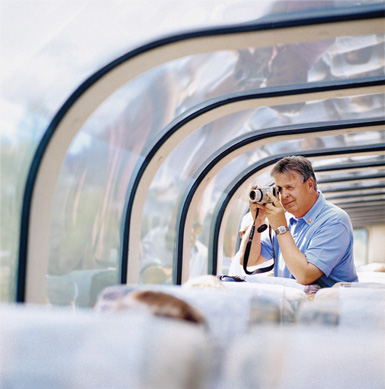 Simply step out onto the open-air viewing car as the train slows to allow you views of beautiful vistas, running rivers and those bears, big horned sheep, eagles, elk, moose and even tiny chipmunks playfully dotted along the mountains as you pass by. While the train rarely stops, the engineer will slow the train down to a crawl to allow you to capture the vast beauty with your camera. Keep an eye out as you pass along the Frasier River as it narrows to Hell's Gate, travel through the Spiral Tunnels and stop for a while to visit Lake Louise, Jasper National Park and more on your journey.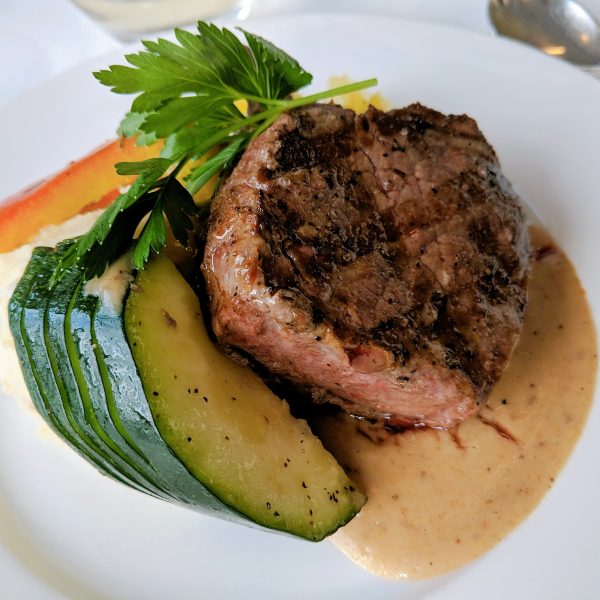 Dine like a King
The beauty of Rocky Mountaineer is that you truly get to use all of your senses as you travel, and that includes gourmet meals created from local food (local wine from the Okanagan Valley and beers) as you are served on china placed on white linen tablecloths. The menu varies daily and you'll be enjoying breakfast and lunch as well as snacks on the train. Expect to feast on the likes of eggs benedict, souffle or blueberry pancakes in the morning and Fraser Valley chicken, Pacific salmon or a hearty chili for lunch. These are just a few of the choices, as you will have a choice between 4 or 5 entrees along with salad, wine, and desserts each day.
Stay the Night Along the Way
One of the unique things about traveling through the Canadian Rockies on Rocky Mountaineer is that you don't spend the night on the train. Oh, no, no, no. You get to experience a variety of towns and cities along the way as you spend the night cozied up in a great hotel bed and live like the locals for the evening, going out to a restaurant of your choice in town and maybe go out for drinks or to listen to some local talent perform in a club. It's completely your choice, and the best part is that the staff at Rocky Mountaineer makes it so easy for you. You don't even have to take your luggage to and from the train. Your bags are delivered right to your hotel room each evening and picked up in your room in the morning before you leave for the next leg of your journey.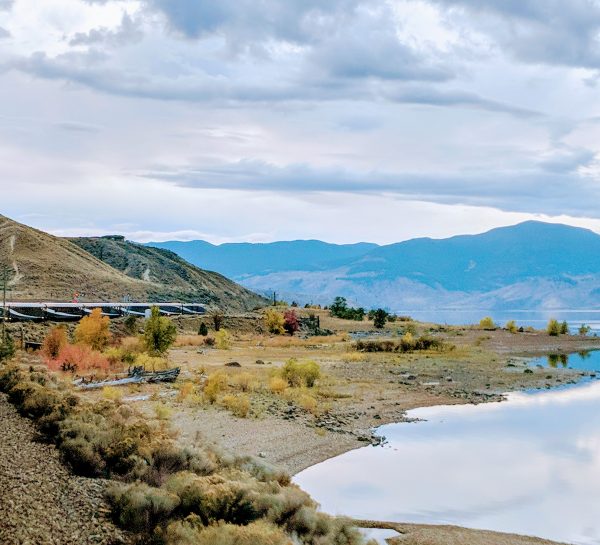 Choose your journey
I have traveled with Rocky Mountaineer three times. Each time I took a different route (my first was a shortened trip), stopping at different places along the way. Now you know why I never tire of taking that trip because each visit is new. You can choose between
First Passage to the West – My trip this past year. This is the ICONIC Rocky Mountaineer trip from Vancouver, through Kamloops and on to Lake Louise and Banff.
Journey Through the Clouds – If you love national parks, a visit to Jasper & a stay at the lodge is A-MAZ-ING. You'll leave from Vancouver with a stay in Kamloops and then on to Jasper. Don't miss visiting Jasper National Park!
Rainforest to Gold Rush I haven't traveled this route yet, but I'd love to. Like the other trips, it begins in Vancouver and then heads to Whistler, Quesnel and finally arriving in Jasper.
Or combine them with a Circle Journey
Things to know before you go
It's a relaxed and comfortable trip. Jeans and a long sleeve top are fine, even WITH those fancy meals.
You're not too old or too young for luxury train travel. You're JUST right. You'll find couples, besties and more onboard.
Expect to make new friends. The seats turn to face each other, for conversation and you will be dining with other travelers throughout your trip.
Make sure to pack your camera and step out to the vestibule car for some gorgeous photo and video opportunities.
There is no wifi on the train. You are in the mountains. Prepare to disconnect from your tech and just enjoy the scenery.
The hosts and hostesses on the train are full of great information. You'll learn a LOT about the areas you're traveling through. Don't be afraid to ask them for recommendations in town either!
Rocky Mountaineer runs April through October. That being said, the fall months can be cold for someone like me from Florida. Pack appropriately.
Try to extend your stay if you've never been to Vancouver or your final destination to explore.
You can add on to your trip with a cruise or ???
Check the Rocky Mountaineer website for special promotions.
Time to cross this off your bucket list
This is the PERFECT year to take that luxury train trip that you've always wanted to because Rocky Mountaineer turns 30 and they so many experiences in store for you.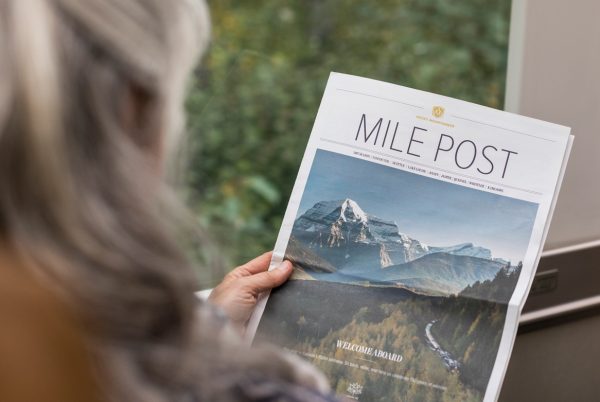 For more information
This post has been sponsored via my affiliation with Rocky Mountaineer. All opinions are strictly my own.