Disclosure: I am a proud Rocky Mountaineer Ambassador. I love sharing about my favorite way to experience the Canadian Rockies.
My mother used to say she had a little gypsy in her. Every two to three years she'd put our house up for sale and buy another. Honestly, I think she just liked change and I inherited that from her in the form of wanderlust. I'm happy having one home, if I can constantly travel and explore, and aside from the places that I've called home, I rarely have the need to go back to places that I've been as a traveler. I'd never be one of those theme park types who vacations at the same place year after year.
So, why was I so excited to board Rocky Mountaineer two years in a row?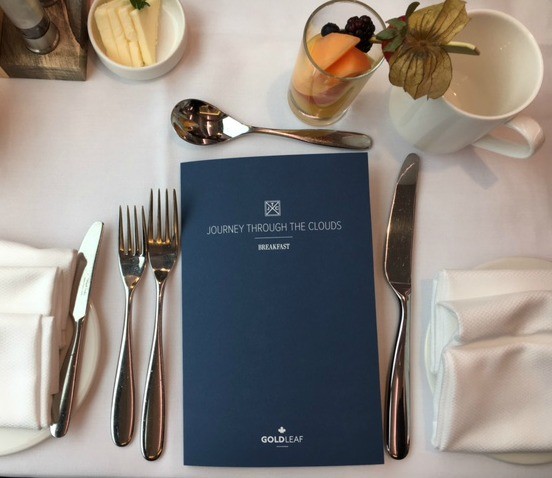 The glamour of luxury train travel
It just doesn't get old. From the grand piano at the station to the champagne onboard, to the seats that seem to cradle your entire body as you melt into them that feel like they were built just for you, you'll know that this is NOT A TRAIN that just gets you from point A to point B, but that the journey onboard sets the standard for your experience. Your hosts will guide you with a narration about the towns and folklore, and alert you if there are any bear or other critters roaming the mountainsides.
I still haven't seen a bear in the wild
That's been my goal. I've seen big horn sheep, chipmunks, bald eagles, and elk. Each time I seem to spot a new animal or bird, I get so excited. I spend lots of time in the open-air vestibule on the train with my camera ready. Watching a herd of big horn sheep grazing on the side of the mountain, deer and elk by my cabin door off the train, or a gaggle of geese diving playfully into the water and chasing each other around a pond turns me back into a child with a sense of wonder about the world.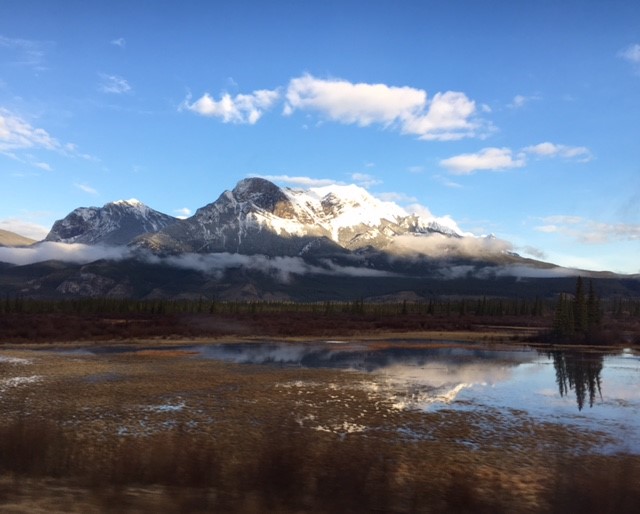 It takes me out of my comfort zone
I'm a city girl who lives in suburbia. I didn't grow up hiking or camping; the closest I came to nature was a day at the beach.  While I always thought that I thrived on the hustle bustle, I am so at peace when I'm gazing at the amazing views of the Canadian Rockies, wildlife, and clear skies through the bi-level glass dome windows that cover GoldLeaf Service. There is no Wi-Fi available, and while it took a short while to get used to not being able to post, write and surf, I was much more relaxed and realized that while I was enjoying a luxury vacation, at the same time I was loving this simpler life.
I am and will always be a foodie
Executive Chef Jean Pierre Guerin creates culinary dreams come true each morning and afternoon. His creations have a French flare with locally sourced fresh ingredients. Lunch could be a sweet maple bacon chicken that's roasted to juicy perfection, served on a bed of sumptuous garlic mashed potatoes and whatever local vegetables he finds, or a savory Tuna Tataki served over perfect rice noodles in a soy garlic glaze.
It feeds my wanderlust along the way
The advantage of NOT sleeping on the train means that you can take in a little local flavor each night. Dinner at a fabulous restaurant, sitting out in a park gazing at the Northern Lights, heading to a local pub, and exploring the culture of small towns and big cities are all highlights to the Rocky Mountaineer journey.
It's so easy to travel this way
The staff of Rocky Mountaineer takes care of everything, and I mean EVERYTHING. From loading and unloading your luggage at each stop and delivering it directly to your hotel room (and picking it up the next morning before you leave for the train), to making certain that you enjoy a scone before a late breakfast (to hold you over) or cheese and nuts with your wine before a late lunch. Rocky Mountaineer can even tailor your vacation to include luxury hotels, an Alaska cruise before or after your train journey, and even take care of customs at the border crossing on its Coastal Passage route between Seattle and Vancouver.
Friendships that have lasted for years
When you spend two, three, or even more days on a train with other guests, you can't help but become friends. It's a camaraderie that comes from a love of nature, sitting together at breakfast or lunch, hollering out when you see that bear (still waiting), and a "cheers" over a glass of wine or beer in the late afternoon. I met three people on each of my two trips that I stay in touch with and we love chatting about how our bucket list experience on Rocky Mountaineer just gets better with each trip.
I guess I really DO enjoy coming back more than once, when it's a trip of a lifetime….or two or three trips of a lifetime.