This post was sponsored by Ling Ling, all opinions expressed in my post are my own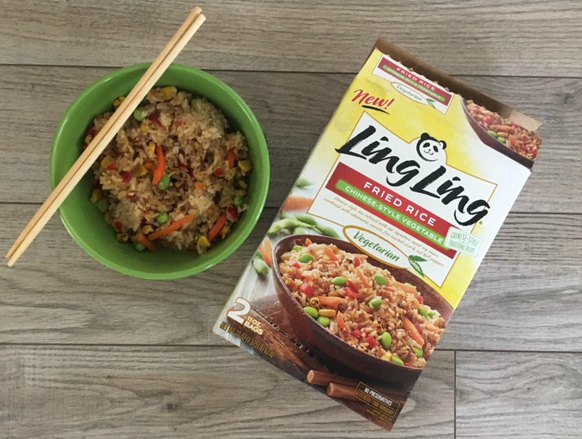 I'm a little tired of the same old, same old for dinner. When I'm in a rush I do the EXACT same thing….toss something on the grill and make a salad. Frankly, it's all getting a little boring. We need to spice up our lives with a little of my travel inspiration, but when I have all of minutes to prepare dinner, it's not an easy task.
This week I did something different and picked up a box of Ling Ling  Asian Style Fried Rice at my local Winn-Dixie. I had put it in the freezer and actually forgot that it was there. Then it happened,  I was at my whits end about what to serve. I had a total of 15 minutes from start to finish because I had an appointment to get to.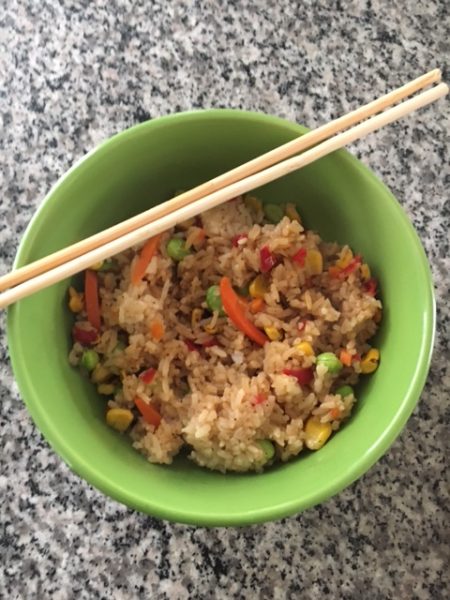 As I opened the freezer to see what I had, the box of Chinese-Style Vegetable Fried Rice was in grabbing distance. Hmmm…could I pull off an Asian dinner quickly? I looked at the side of the box and saw that I had two options to cook the rice, microwave for 4 minutes (for one bag), 7 minutes (for two bags) or saute it in a wok or skillet with a little oil (10-11 minutes for 2 bags). I made two bags and tossed a quick salad together and had the makings of some Asian Ginger salad dressing. I opted to microwave (mostly because I was in a time crunch) and Mr. S (who's very picky) LOVED IT (by the way, it's difficult to get him to try new foods and say he likes something I make as he used to be in the restaurant business).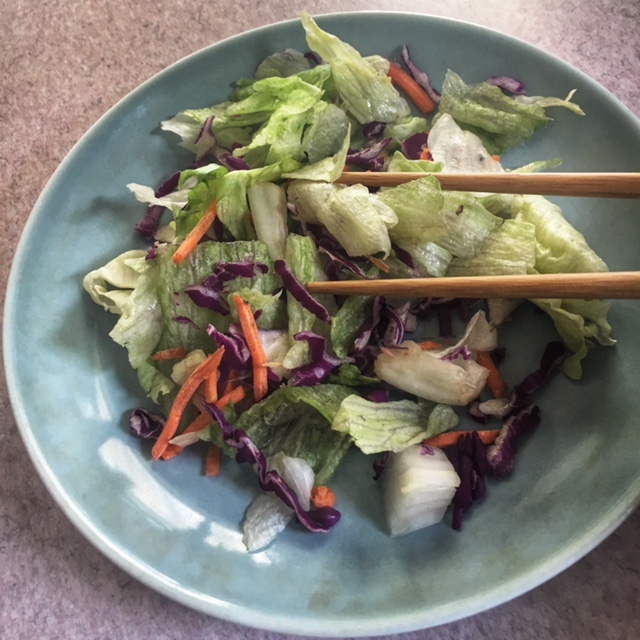 Salad with Asian Ginger Dressing
Bag 'o Salad (yup…told you I was lazy)
Asian Ginger Dressing to taste
Asian Ginger Dressing
1/2 c olive oil
1/4 c rice vinegar (I like balsamic in place of rice vinegar as well)
2 TBL soy sauce
3 cloves of garlic minced
3 TBL grated ginger root
2 TBL honey
1 TBL water
Mix together in a jar, shake and pour (can be refrigerated and used later).
I had opted for the Chinese-Style Vegetale version, but the Ling Ling Fried Rice line includes FIVE unique dishes. Each are inspired by authentic recipes from Japan, Korea, China and Thailand including
Yakitori Chicken
Yakiniku Beef
Thai-Style Chicken
Chinese-Style Vegetable
Bibimbap Beef
The flavor was similar to what I had experienced when I was in Hong Kong last year as they create the recipes using their own Infusion Cooking Method. What this means is that each grain of rice is infused with their signature sauces, making each bite as delicious as if you had delivery from your favorite Chinese restaurant.
I think I'd like to try Thai-Style Chicken next, as the last time I had authentic Thai food was when I spent a week in a campervan in central Thailand.