Outfitting the new mansion.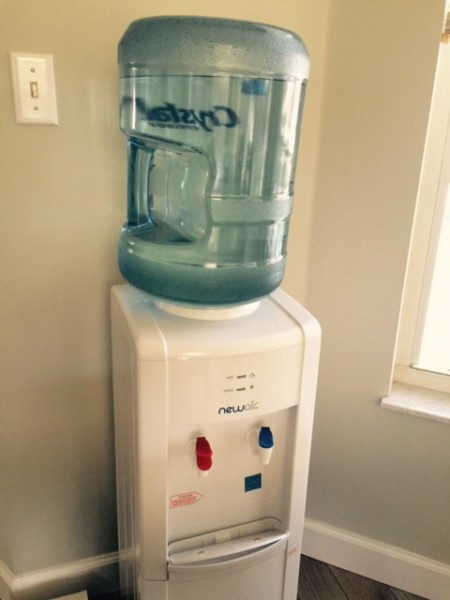 While it's been just over two weeks since moving into the new mansion, the house still feels "upside-down" to me. The kitchen, living room and bedrooms have furniture, and there are no boxes in those rooms, but a peek behind the French doors into the office, or into the master bedroom closet and you'll see an ocean of boxes. As a matter of fact, the master closet is SO packed with boxes, that I have to move them all out in order to begin putting things away.
Still, the house feels like home. Perhaps it's that the two rooms that we live in most are finished…the living room and kitchen. Before moving in, I knew there were a lot of things that we needed to replace in the new house. The first being a water cooler. Florida water as an "off" taste to me, and the refrigerator is smaller than I'm used to, so storing bottles of water isn't an option. Plus, there's the whole ecological impact of using individual bottles.
BESIDES
As long as I can remember we've had a water cooler. I love the convenience of having both hot water and cold at the touch of a button. That alone reminds me to drink more water (something that I won't otherwise do). One of my biggest issues is that most coolers that we've had are TALL and I am short. It's fine for getting a glass of water, but placing a bottle on top meant that I needed help.
My NewAir WCD-200 water cooler
I was ecstatic when I learned that I'd have the NewAir WCD-200 water cooler from Air-n-Water to review at the new mansion. So ecstatic that I asked that it be delivered WEEKS before we were even scheduled to move in. I knew that the contractors would be thirsty, and wanted to be sure that they were taken care of as they painted, laid the new flooring, hung my fixtures, etc.
Now that I've moved in 
I've given it a good workout, having gone through 2 5-gallon jugs already.
THE 411 on the WCD-200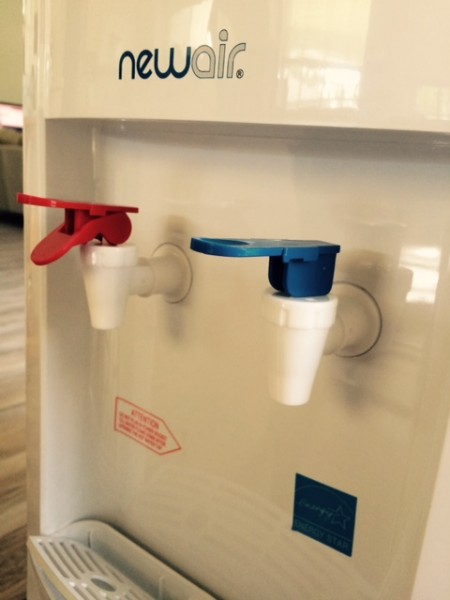 I love the size…I can actually get the 5-gallon containers up and on the unit. Even MR. S. at 6'2″ commented how much easier it is.
Being short, getting a glass of water is easy, but Mr. S at 6'2″ has to bend down to get his water….it's ABOUT TIME I got the better deal 😉
It takes 3 different sized jugs 2, 3 and 5 gallon jugs (although we use the larger ones because they're easier to find)
Brrrr….the unit gets the water VERY cold, and when you live in South Florida you appreciate that 41°-51°
But there are also cool days when a packet of hot chocolate needs that 176°-243°
Clean aesthetic – it fits beautifully in my kitchen with a clean, white plastic outer and simple lines
The hot water spigot has a safety…you have to squeeze it making it safer around little ones (and bull-terriers)
The temperature controls can be turned OFF from the back of the unit, if you don't want the hot or cold on at all times.
Shhhhh….this is the QUIETEST unit that we've ever owned, there is no on/off sound at ALL.
The water flavor is clean. I know some of that has to do with what kind of water we buy, but it comes through via metal vs. plastic – keeping that crisp flavor.
I save approximately $20 per month using the NewAir WCD-200 water cooler
Better for the environment than individual bottled water (plus I reuse the jugs and fill them locally).
Available at LOTS of retailers Air-n-Water
For more information