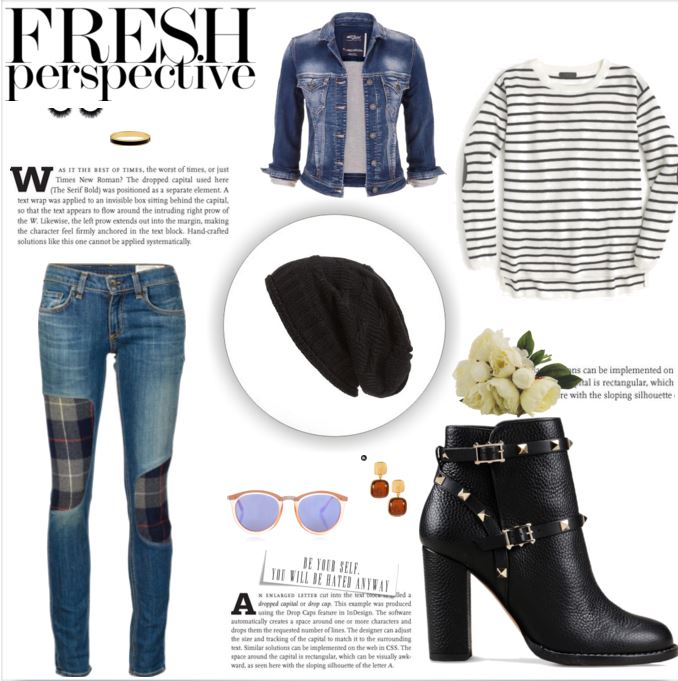 Changing leaves and steadily dropping temperatures indicate the arrival of cooler months. It's time to put away the shorts and bathing suits and look towards warm cardigans, all-weather jackets, and great accessories designed to ring in the fall and winter months.
Fall Cleaning
Spring isn't the only time you should rid yourself of old items. If you're looking to redo your wardrobe, you're going to need to clear some space. Go through old items, rediscover clothes that may get you through the season, and throw away the things you haven't seen in ages. Be real with yourself, if you haven't even thought about that particular piece of clothing in years, then it won't hurt to part with it.
Jeans
Jeans are a classic and probably already a constant in your wardrobe, but if you wear them as much as I do, it's a good idea to revamp your jean selection more often than not. Dark washes fit the cooler seasons well, and don't be shocked when skinny jeans aren't as popular this season—believe it or not, bell bottoms are on their way back in.
Sweater Love
What's more exciting about the arrival of cold weather than the chance to wear cozy, cuddly sweaters? Oversized sweaters are perfect for layering, and make for a chic look that appears effortless. Slap on a pair of well-fitting jeans and some new boots, and you've got a look made for the runway. Extra-long cardigans that stretch to the knee are a statement piece for sure, and they work with a variety of clothing options. Camel-colored options hark back to Hollywood starlets of yesteryear, and are an easy way to attain the classic look we all crave. Tie an open sweater closed with a belt for a more tailored look that will help you create more of an hourglass shape.
Outerwear
Layers are important, but none as much as the top layer. If you're revamping your wardrobe on a tight budget, look for a staple jacket that will protect you from the elements. Your health is worth the investment, and you can find great looks for an inexpensive price. Make sure whatever you select is tightly woven to keep out icy wind, and choose materials like wool or silk to keep your body warmth in.
Love Your Noggin
Most of our heat is lost through our head, believe it or not, so make sure you're doing what you can to keep warmth in and protect your noggin. Beanies are classic headwear that can be dressed up or down depending on occasion, and designer brimmed hats always looks chic while serving a practical purpose.
Accessories
If you're sprucing up your wardrobe, don't forget to update your accessories. Jewelry can provide the bit of sparkle your new outfit needs, but buying new necklaces or earrings doesn't mean you have to break the bank. Imitation jewelry looks just as pretty for a fraction of the cost. Pick seasonal pieces that go well with fall and winter palettes, and make dressing up for the holiday season fun and easy. Rings with canary yellow gems will make for an understated accent, and necklaces incorporating pretty ambers and muted oranges exude fall vibes that will make matching your new cold weather wardrobe easier than ever. Don't forget to keep your hands warm, and try on some new mittens or gloves. You can go classic with some wooly mittens, or keep your warmth understated with a pair of fitted gloves with touch-screen capable fingertips. Adding any of these accessories can make for an easy way to spruce up old items.
Shoes
Keep your tootsies cozy all season long with new shoes. I've talked about my favorite boot looks, but there are a variety of shoe options designed to get you through colder weather without freezing your toes off. While classic boots are your friend, don't forget their smaller but just as important counterpart. Booties can make a casual outfit look more formal, and take a formal dress from elegant to casually fun. If you live in wet conditions, grab yourself of always practical wellies. High-fashion sneakers also are a great way to cover up those toes without sacrificing your sense of style.
Eye Protection
You might think of sunglasses as a summer necessity, but wearing the perfect pair of shades is essential during any month of the year. Even if it's overcast, bright reflections can damage your eyes. If you live in an area that sees snowfall, you'll want to avoid the rays that bounce back off the snowbanks.
Make changing temperatures exciting with the addition of some new fall and winter staples. From plush sweaters to stylish footwear, you'll look great and stay warm all winter long.