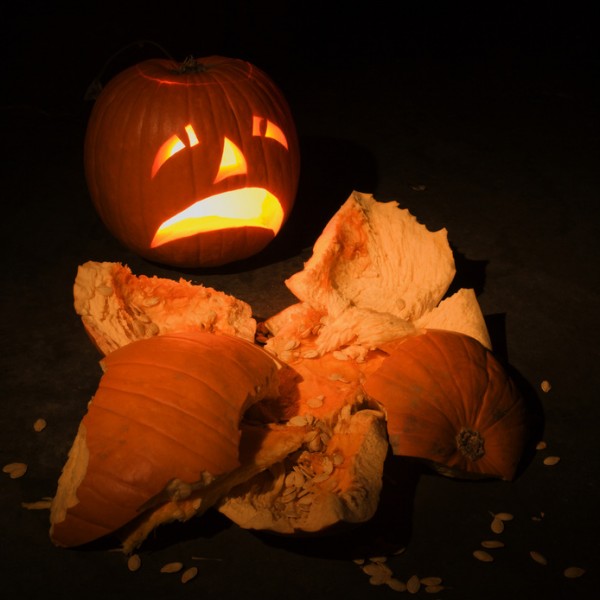 I've seen my share of smashed pumpkins. Some stay neatly in front of the house where it was smashed and others I've seen spewed out onto the road.  Depending upon whether you're on the hunt in the neighborhood looking for the best Jack 'O Lantern to destroy, or you've decided to have a little fun at home, there are a few methods that I thought might help.
1. The traditional pick up and throw
The choices are endless when you're picking the pumpkin up with your bare hands. Throwing it against a wall, into the street, or just down on the stoop…there are endless variations on the traditional pumpkin toss.
2. The chainsaw
Best reserved for controlled circumstances….a chainsaw is heavy to walk around with and still carry your bag for candy as you go door to door. While effective AND nice and messy, it is probably best kept close to home, as you'll definitely get tired carrying it around. Besides, going to a door with a REAL chainsaw saying "trick or treat" can bring all sorts of other problems.
3. The baseball bat
Small pumpkins can be tossed into the air and hit baseball style, or you can go all thug on Jack and just smash him on the ground…gangster style.
4. The cinder block
If you think carrying a chainsaw door to door to smash pumpkins is heavy, just skip over the cinder block. Not quite as dramatic as watching pumpkin innards fly everywhere, this is the poor mans alternative to using gas powered equipment.
5. The Firecracker
Stand back and watch the show as seeds, meat and stem fly high above in a spectacular display of orange above.
**NOTE: Fireworks are legal in: Arizona, California, Colorado, Connecticut, Florida, Idaho, Maryland, Minnesota, New York, North Carolina, Oregon, Pennsylvania, Rhode Island, Virginia, West Virginia, Wisconsin, and the District of Columbia. Please adhere to state laws before putting an M80 into your pumpkin.
6. The run-over
Mr. S's favorite method when I asked him was to throw the pumpkins into the road and run over them with a car. I'm guessing that this could ruin the under-carriage, so I highly recommend that you think this one through carefully before trying it.
7. Pumpkin Bocce
Similar to the traditional pick up and throw, this method involves two or more people rolling pumpkins at each other. The pros are that you can smash multiple pumpkins into each other, the cons…that they just stop when they hit each other and stay in tact.
8. The Billy Corgan
I'm not a DIY'er, so in my usual fashion, I'd rather just sit back with a pumpkin shandy, put on my headphones, enjoy a pumpkin shandy and let the more experienced smashers ruin the Jack 'O Lanterns as I hum along.
DISCLOSURE: I was asked to write a DIY post for our #FallFun31…this is just for FUN. I do not expect Champagne Living readers to come to the mansion and trash my pumpkins (but if you do…at LEAST be creative about it).
Enjoy! For more Fall themed crafts visit a few of my favorite bloggers:
Would your brand like to participate in #FallFun31? Fill out this form for more information.