Every so often I get BORED looking at the same old furniture, the same old accessories, and the same old walls. Unfortunately, redecorating can be extremely expensive, but that doesn't stop me. With some simple and inexpensive updates that include changing the accent colors of accessories and wall art – you can transform that living room, bedroom, even bathroom into something completely new for very little money.
This month I updated our foyer (more about that below) and am beginning to plan the two baths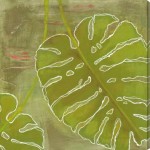 1. The Master Bath – my master bathroom has a soaking tub and enclosed shower, so to liven things up I simply head out to my local discount store pick up a couple of towels and a rug in a new color and head to Gallery Direct for 2 small pieces of art for the walls. I don't need anything terribly large or dramatic, but rather a soft look that makes me feel as if my bath is a spa. I now have lavenders and am moving to green and have chosen the Palm StudyIV and Palm Study I (using red as a second accent color).
2. The guest bathroom – This is a much smaller bath and it does have a shower curtain. I always think that the guest bathroom should be fun and a bit livlier. It's one of those rooms that you can have FUN with and if you're a bit timid about decorating, it's easy to live with as you don't spend as much time in there. It's where I do my initial experimenting with color and style.
My plan is to toss out the old shower curtain which is  a very rich traditional looking print and purchase either  a blue or red (thinking primary colors) solid color, with a pattern in the weave (so it's got a bit of dimension). With either color I'll add in blue towels and keep my current bathmat – an organic cotton in off-white. To pull all of the colors together I'll be hanging two of the East Meets West series – adding a LOT of those primary colors, but still giving it an eastern spa feel.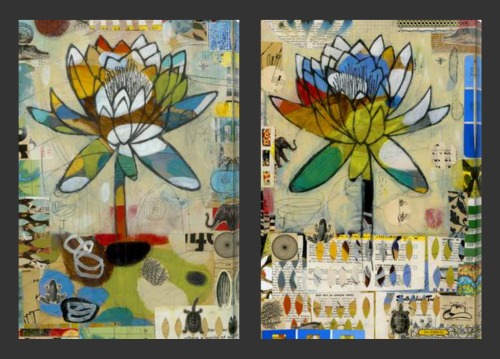 3. The Foyer – Interestingly while the entry into the house is not a real ROOM, it is what creates that first impression about you when someone walks through the door. I've always used fun, funky, retro and colorful throughout the mansion and even more so in the foyer. Since I love nothing more than keeping people guessing, I've switched to something softer, more muted and abstract. I have to say that I was a bit uncomfortable with it when I first hung the piece, as it's not my usual style – but it makes me giggle each time I look at it knowing that I can stretch a bit.
I went for one BOLD SIZE piece in earth tones – Earth Elements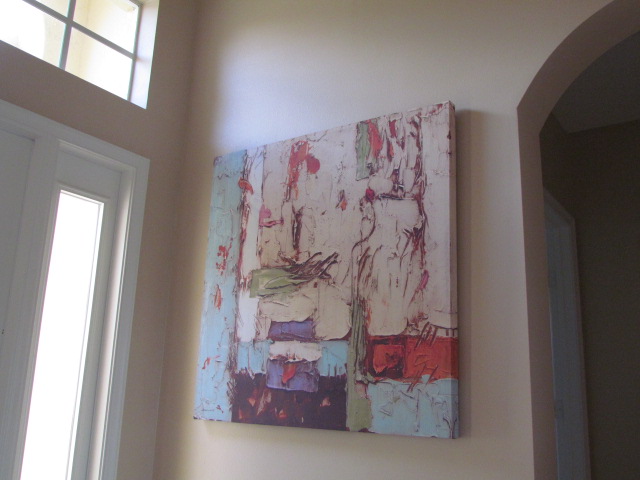 In a few weeks I'm tackling the master bedroom. I'm just wondering if I should ask Mr. S for his input or not….
Are you doing any Spring redecorating or just perking up a room in your home? I'd love to hear what you've got planned! If you hurry and order your Gallery Direct artwork by midnight tomorrow – Thursday, March 8th – you'll get 30% off of your order PLUS Free Shipping, so it's a great time to add some fresh color to YOUR mansion.
I am a blogger ambassador for Gallery Direct, as such I receive artwork to facilitate my reviews. All opinions are strictly my own.