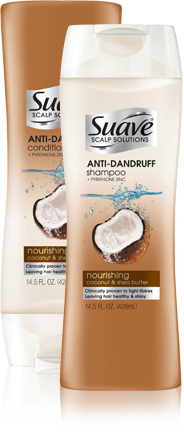 …it's a DANDRUFF shampoo. Now, I'd never admit that I have dandruff, and even if I did I generally hate the awful smelling harsh shampoos and conditioners that get rid of your natural shine and leave your locks totally lifeless.
Suave…yes I said SUAVE has just come out with a solution to your itchy scalp that smells HEAVENLY and is gentle enough to use every day without leaving your hair dry and unruly. I had the opportunity to try the Nourishing Coconut and Shea Butter scent and frankly my hair looked as shiny as it does with my high priced non-dandruff shampoo! Did I mention it's a steal at under $4.00?
Of course the ingredients will take care of those white flakes. Mr. S had no idea that it was a dandruff product and he's a coco-NUT! He's been using it daily (on what little hair that he has left…lol).
Suave Scalp Solutions comes in three great fragrances
Nourishing Coconut and Shea Butter – for shiny healthy looking hair
Invigorating Mint and Eucalyptus – for that tingle you need to wake you up in the shower
Invigorating Ocean Minerals & Aloe – a shampoo and conditioner in one
We're giving Suave Scalp Solutions a toast of champagne for it's low price, great fragrance and way it leaves your hair…even if you have a pesky dandruff problem.
We received product to facilitate this update.