I received a product to facilitate this post. All opinions are strictly my own.
My favorite things
The other day Mr. S and I got to talking about all of the things that we love. Julie Andrews popped in my brain and I can't seem to get rid of the loop in my head now (bright copper kettles and warm woolen mittens).
For him it's
A great round of golf – I think that means a low score
Finding out that there's a Godzilla marathon on TV
Being able to spend the entire day in bed
Puppies
My faves are a little different
The Marais
Striped Breton shirts
Fresh Maine Lobster on the docks
If dog is man's (and woman's) best friend, than the relationship with a puppy is near mythic. – Demeter Fragrance Library
There's one thing that we agree on
There is nothing quite like a puppy to cheer you up, and the BEST part is those loving licks and Puppy's Breath that touch your heart. I'm not ready to head to the animal shelter or call a breeder for yet another dog, but I DID find another way to enjoy the feeling of puppyhood and to bring back the memories of when Clem the Mini-Bull-Terrier was young.
Demeter Fragrance Library's PUPPY'S BREATH
Puppy's Breath is a revelation of warm, wet, and wonderful comfort. Slightly sweet, and undeniably organic and alive, this fragrance captures the experience of meeting that new puppy for the first time, up close and personal, a rainbow swirl of happy feelings and memories. It remains transparent, even as it is full and rounded – mystical, like the breath itself. – Demeter Fragrance Library
Even though I've been home
I find myself spritzing myself with this feel-good scent. It's a great way to life my spirits every day.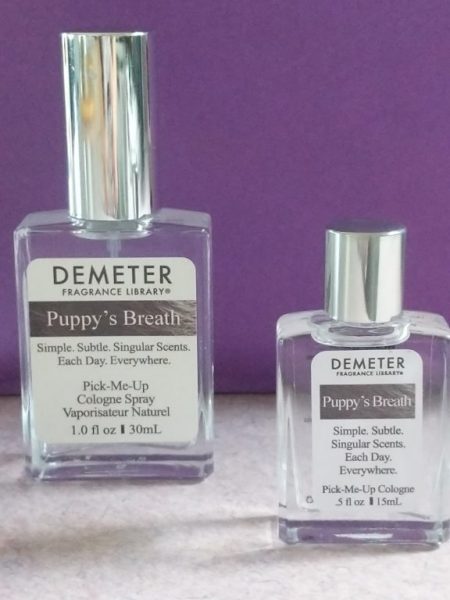 Puppy's Breath is available in
COLOGNE SPRAY
ROLL ON PERFUME OIL
BODY LOTION
SHOWER GEL
MASSAGE & BODY OIL
ATMOSPHERE DIFFUSER OIL
and more
Prices from $4.00 and up
Find it at https://demeterfragrance.com/puppys-breath.html