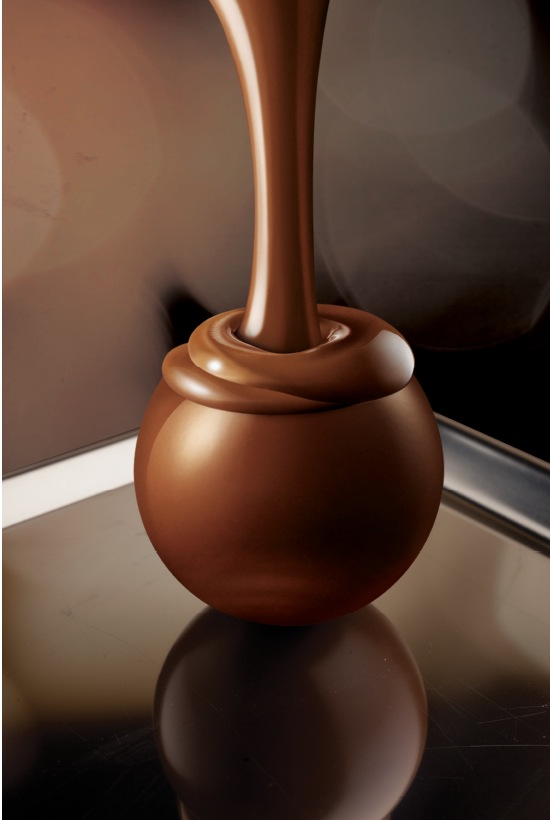 On Sunday morning I'll be heading down to Fort Lauderdale to have our holiday brunch with my brother and our extended family.  Our family is all grown with very few young ones and as a result we don't do a whole lot of gift giving…still, I would never consider going empty handed. I always bring something sweet for my host and this year I'm coming with bags of Lindt Lindor Truffles in three holiday colored wrappings.
LINDOR Milk Chocolate – a milk chocolate shell with a smooth melting milk chocolate center; available year round
Limited Edition Dark Peppermint – a dark chocolate shell with a smooth peppermint center; available for holiday season only
Limited Edition Snowman – a milk chocolate shell with a smooth white chocolate center; available for the holiday season only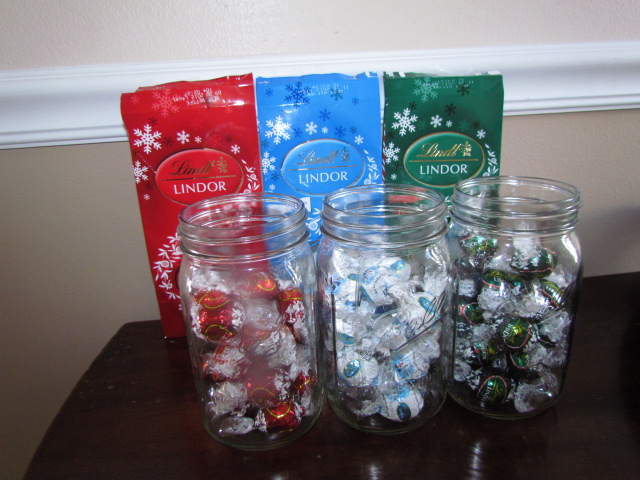 Of course, I've got some for myself as well! I put them out for guests who come by (just poured them into some Ball Jars), and I'm trying my hardest not to eat them all.
The great thing about Lindor Truffles is that
Quality SWISS chocolates
You can buy them everywhere from your local drugstore to Lindt stores at the Mall
Decadently rich, smooth chocolates with fillings that are yummmmmm……
Perfect stocking stuffers, hostess gifts, or a treat for yourself
165 years of chocolate history
They look so pretty in bowls, jars, etc. with their colorful wrappers
Dark, milk and white chocolate – something for everyone
LINDOR truffles are the ultimate smooth melting premium chocolate masterpiece.  Crafted by the Lindt Master Chocolatiers using a secret recipe and the finest ingredients, the delicious Lindt chocolate shell enrobes a delectably smooth filling. LINDOR truffles are available in a variety of exquisite flavors – including a few limited edition seasonal flavors – that will delight the palate and lavish the senses
Did I mention that my brother loves chocolate just as much as I do? He's going to be especially happy to see me this year.
I know that this giveaway will end after the holidays, so the winner won't be able to bring them as a house gift. I'm so sorry…but, you'll have to enjoy them all yourself!
To learn more about Lindt Chocolates go to
Website: www.Lindt.com
Facebook page: www.Facebook.com/LindtChocolate
Twitter handle: @Lindt_Chocolate
Lindt Chocolate Unwrapped Blog: www.blog.LindtUSA.com

WINNER: Leigh R. – Milledgeville, GA
GIVEAWAY
Extra Entries
Tweet me @zipporahs and tell me something chocolaty sweet.
Comment below with your tweet
 Subscribe to Champagne Living, "Join the Clique", follow me on facebook or twitter – all found on the sidebar (each counts for 1 extra entry)
Tell your peeps on your blog, facebook page or twitter about this or any post (each counts for 1 extra entry) and link to us.
Share this giveaway on any contest/sweepstakes/giveaway site for 5 extra entries..
This giveaway is open to US residents, 21 and over and ends on January 7, 2012
No purchase is necessary.
Odds of winning are dependent upon the number of entries received.
Void where prohibited by law.