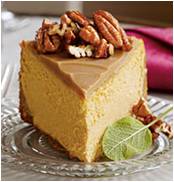 There's something about the change of season that makes me want to cook. The heat of the summer is now LONG GONE (even here in Florida where we've had balmy breezes), and the mansion is filling with smells that say the HOLIDAYS are almost here. Now that "B" has moved back, it's more fun to cook and bake …it's the appreciation factor.
Here is a wonderful FALL recipe for cheesecake from the pages of Southern Living  that you'll want on your Thanksgiving table this year.
Pumpkin Pecan Cheesecake
Yield: Makes 12 servings
Hands on time: 25 min
Total time: 11 hr., 32 min
Ingredients
2 cups graham cracker crumbs
1/3 cup finely chopped pecans
5 tablespoons butter, melted
3 tablespoons light brown sugar
4 (8-oz.) packages cream cheese, softened
1 cup granulated sugar
1 teaspoon vanilla extract
4 large eggs
1 1/2 cups canned pumpkin
1 1/2 tablespoons lemon juice
Praline Topping (see below)
Garnishes: coarsely chopped Pecan Pie-Glazed Pecans, fresh sage leaves
Preparation
1. Preheat oven to 325°. Stir together first 4 ingredients in a bowl until well blended. Press mixture on bottom and 1 1/2 inches up sides of a 9-inch springform pan. Bake 8 to 10 minutes or until lightly browned.
2. Beat cream cheese and next 2 ingredients at medium speed with a heavy-duty electric stand mixer until blended and smooth. Add eggs, 1 at a time, beating just until blended after each addition. Add pumpkin and lemon juice, beating until blended. Pour batter into prepared crust. (Pan will be very full.)
3. Bake at 325° for 1 hour to 1 hour and 10 minutes or until almost set. Turn oven off. Let cheesecake stand in oven, with door closed, 15 minutes. Remove cheesecake from oven, and gently run a knife around outer edge of cheesecake to loosen from sides of pan. (Do not remove sides of pan.) Cool completely on a wire rack (about 1 hour). Cover and chill 8 to 24 hours.
4. Remove sides and bottom of pan, and transfer cheesecake to a serving plate. Prepare Praline Topping; immediately pour slowly over top of cheesecake, spreading to within 1/4 inch of edge. Garnish, if desired.
Praline Topping
Yield: Makes 1 1/3 cups
Total time: 20 minutes
Ingredients
1 cup firmly packed brown sugar
1/3 cup whipping cream
1/4 cup butter
1 cup powdered sugar, sifted
1 teaspoon vanilla extract
Preparation
Bring first 3 ingredients to a boil in a 1-qt. saucepan over medium heat, stirring often. Boil, stirring occasionally, 1 minute; remove from heat. Gradually whisk in powdered sugar and vanilla until smooth. Let stand 5 minutes, whisking occasionally. Use immediately.
Try This Twist! Sweet Potato-Pecan Cheesecake: Substitute 1 1/2 cups mashed, cooked sweet potatoes for canned pumpkin. Proceed with recipe as directed, baking 1 hour or until almost set.
Thank you to Southern Source magazine and allowing me to be a part of the Southern Living Source program.