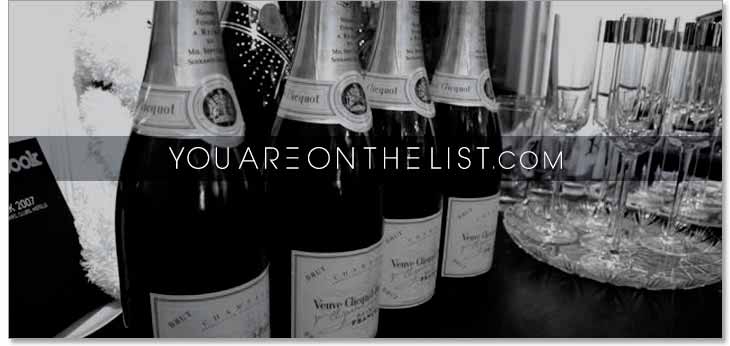 It's no secret that I get invited to some fabulous events. Just this coming week I have three that I've already RSVP'd to (check the calendar on my sidebar to see what events I'll be at each week). I get e-mails, tweets and facebook updates almost every week telling me how lucky I am and asking how THEY can get invited.
Champagne Living's readers can now get invited to some of the same FABULOUS VIP events that I do. Sign up for YouAreOnTheList.com and get invited to exclusive fashion, beauty, music, food and lifestyle experiences in New York, Los Angeles and elsewhere. You Are on the List offers TWO different types of membership, a complimentary entry point into private events, as well as an Invitation Only List, an annual fee-based program that comes with privileges such as avoiding long lines outside events with VIP entry, insider knowledge on upcoming events and access beyond the velvet ropes to YOUAREONTHELIST.com dedicated VIP areas!
Their  Facebook and Twitter pages are also great resources for learning what is coming up directly from CEO Robin Ross.
Some of the past events that you could have gotten VIP entrance to are:

Paper Mag Macy's Celebrate Launch of Giambattista Valli Collection for Impulse Only at Macy's (just this past week)

You are invited to attend a private party for the launch of the Giambattista Valli Collection for Impulse only at Macy's Please join PAPER Magazine to celebrate for a night of MUSIC, MODELS & MAGIC and meet the Giambattista Valli! Special Guest DJ Harley Viera-Newton. INVITATION ONLY
When: Wed, October 26,6:00 pm – 8:00 pm
MERCEDES BENZ NY FASHION WEEK Spring 2012 Collections
View the Spring 2012 Collections like a fashion editor. YOUAREONTHELIST.com has packages and tickets to individual shows under the tents at Lincoln Center and other exclusive venues. Please RSVP for information on available shows. INVITATION ONLY LIST members receive special insider amenities and pricing.
When: September 8th – September 15th, 2011
I'll have more information for you on upcoming events. In the meantime, why wait? You could be attending some FABULOUS events just like I do. Just go to YouAreOnTheList.com NOW and sign up.
I received a membership to facilitate this review. All opinions are my own.