I love the new trend of skinnying (is that a word???) cocktails. Now that I'm on my way to my goal weight, I t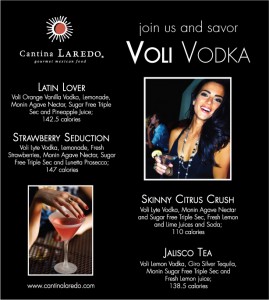 end to NOT drink cocktails when I go out to dinner or with friends.  The reason is that most drinks are VERY calorie laden and when push comes to shove, I'd much rather EAT those calories than drink them.
When I heard that Cantina Laredo in Palm Beach Gardens and Hallandale in South Florida are now serving drinks such as:
The Strawberry Seduction – Voli Lyte Vodka, lemonade, fresh strawberries, Monin Agave Nectar, Sugar Free Triple Sec and Lunetta Prosecco (147 calories).
 The Skinny Citrus Crush – made with Voli Lyte Vodka, Monin Agave Nectar and Sugar Free Triple Sec, fresh lemon and lime juice and soda (110 calories).  Jalisco Tea combines Voli Lemon Vodka with Giro Silver Tequila, Monin Sugar Free Triple Sec and fresh lime juice (138 calories).
As soon as I saw these I knew that I could EASILY go out with the girls for a great Mexican dinner and a drink and NOT ruin my Nutrisystem diet.
Cantina Laredo is located in Hallandale at The Village at Gulfstream at 501 Silks Run 954-457-7662  and in Palm Beach Gardens at 4635 PGA Boulevard 561-622-1223 . I haven't been to the one at Gulfstream and have heard that the complex there is a lot of fun. So, who wants to meet me there for drinks?
For more information, visit www.cantinalaredo.com.