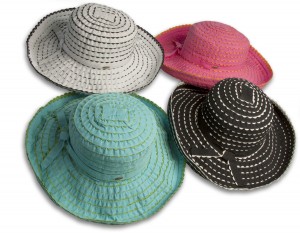 If you've been reading Champagne Living for a while now, you'll remember back when the "lady with the hat" (that would be ME) adorned the banner. Hats and scarves have always been my signature accessories. They add a touch of elegance and style to almost EVERY outfit.
Of course this time of year, hats do a HECK OF A LOT MORE than just look gorgeous. The protection that they provide from the sun is ESSENTIAL to keeping our skin in great condition. While I have quite a collection, you'll find at least THREE Scala brand hats in my closet.
Why?
For me…it's because they FIT perfectly and are always in style. They are well made, timeless and provide the protection that I need living in South Florida year round.

My "oldies but goodies" are the Scala hats that are adjustable. Since cutting my hair off a few years ago, I have LESS hair to take up space in. They're cute, functional and have stood up over time. The problem is I wanted something NEW and CUTE for this summer.  This year's Ribbon Scala Sun Hat is not only chic but it also provides sun protection of UPF 50 PLUS! Now I can look cute and be protected all at the same time.
I have one of these cotton-polyester hats in an aqua color that's trimmed with green ric rac and has a ve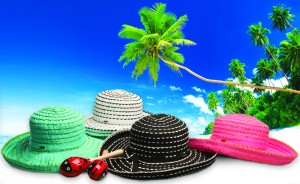 ry simple, tailored bow in the back (the one on the bottom left in the picture above). I took it with me on my recent trip to PGA National and it accessorized my ensemble  PERFECTLY as I walked around Worth Ave. on Palm Beach (where EVERYONE wears a hat). The brim (4″) is perfect for keeping the hot South Florida sun out my eyes, while it not too large to be uncomfortable. I packed the hat for my trip this week to Jamaica as well!
I love the fact that this particular hat is crushable, and I just TOSSED it into my suitcase, along with my bathing suit and cover-up. I plan on bringing it with me to Park City in a few weeks for the Evo Conference as well. Last year I found the sun in the mountains to be pretty harsh and I remember thinking that I SHOULD HAVE brought a hat with me.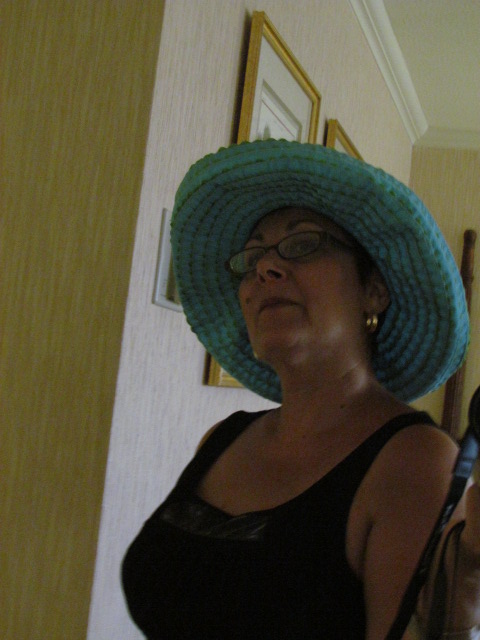 As you can see – this is one of those fun casual hats that are perfect for the beach, a day of shopping, with a sundress or even for taking the dog for a walk around the neighborhood.  While this hat is not adjustable (one size fits all), my small head required taking a small tuck in the inner ribbon sweatband to make it fit PERFECTLY.
Do you need a hat that provides protection from the sun and looks GREAT? There's an awesome collection of Scala Collezione Brand hats at http://www.womens-hats.com to choose from! I have also bought them at stores nearby (including the little shop at the beach club that I belong to in Fort Lauderdale), department stores, etc.
I received product to facilitate this review. All opinions are my own.