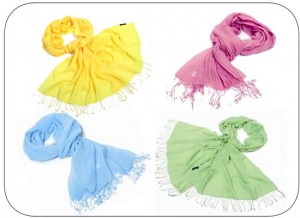 You've put on your little black dress and a fabulous pair of heels, but something is missing. Yes you look great, your makeup is impeccable and your hair looks like you just stepped out of the salon, but it's not enough. You KNOW what's missing!!! The accessories.
Whether your style is trendy or classic, hip or all business your accessories finish your ensemble and make the final statement. This is where I spend my money. WHY? Because I can toss on a pair of skinny jeans and a white t-shirt that came from Target or Walmart – but when I toss a beautiful wrap across my shoulders, that t-shirt and jeans it looks simply elegant. One well tossed scarf can make the difference between plain and perfect.
A simple wrap is ESSENTIAL on a cool summer evening. The best part is that when I travel, I'm able to roll a number of lightweight wraps, like the one I'm wearing in the picture by FRAAS and double duty them as both a wrap or as a scarf. I love these thin viscose pieces and the option of taking one dress and changing it in a myriad of ways.
The next time you see me on a trip, feel free to ask to see my suitcase. You'll see a very simple wardrobe of mix & match pieces a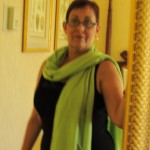 nd an array of scarves in colors that can take me from breakfast to dancing with my friends. While scarves and wraps may be just accessories, I don't believe in scrimping on them. FRAAS new Spring Summer 2011 collection runs from $35 to $65 and are made of luxurious lightweight fabrics like linen, wool and viscose. The quality is what you'd expect for a company that's been around for 130 years. You'll find their beautiful scarves sold worldwide. Of course you can also purchase them at the FRAAS website and at Amazon.com
as well.
I received a wrap to facilitate this review. All opinions are my own.