I pledge to protect and defend my skin as it does me.
I pledge to make skincare a priority for me, my family and my friends.
I pledge to treat my skincare more like healthcare.
Your skin is the largest organ in your body….do you treat it with the same respect that you would your heart or your lungs? You make a conscious effort not to smoke, you forgo trans-fats and take in plenty of fiber. But what do you do for your skin? Oh yeah, you toss a bit of suntan lotion on at the beach, but have you made DAILY changes to make certain that your skin stays as healthy as the rest of you?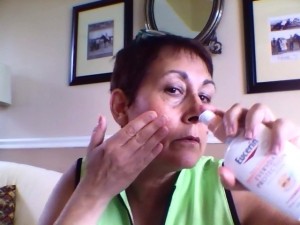 It's not just those of us who live in the Sunshine States that need to have constant protection from the elements. You wouldn't go outside in winter without a hat and gloves, so why would you leave the house without properly hydrating your face and body and putting on SPF protection against the sun?
Skin cancer is NO JOKE and taking the time to PREVENT it takes very little time. Remembering to reapply your SPF every 2 hours when you're outside is a simple way to keep your skin safe. These days I find myself outside a LOT MORE, but I just remember to take a minute and put on some of the Eucerin Everyday Protection and I've given myself some added protection. Cloudy, sunny, in & out of the car or sitting at the beach…the sun can do damage and it's up to US to keep our skin healthy.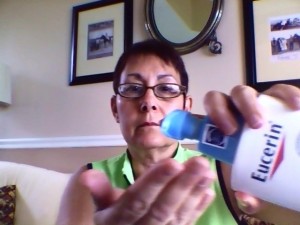 So, what do you do to BOTH hydrate and PROTECT? For me…it's Eucerin. I apply my Eucerin Skin Everyday Protection for my Face (with SPF 30) for smooth skin and protection from the sun. It's gentle enough, not greasy and it's dermatologist recommended, so I feel good about it. Then I slather on my Eucerin Everyday Protection for Body with SPF15, so that I don't get dry scaly skin and am comfortable wearing skirts with bare legs. Just like my face protection, it offers broad range protection from both UVA and UVB rays..PLUS, it has Vitamin E to help defend me against those nasty free radicals (not everything that's FREE is for ME).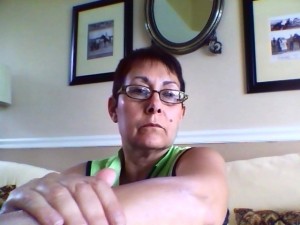 I'm definitely making 2011 a healthier one, and I haven't forgotten about my skin….have you?
Oh, and Eucerin sent this CUTE Vera Bradley Umbrella (yup, more protection for me) and matching cosmetic case….and we're giving away the same along with a FULL size of Eucerin Everyday Protection for Body and a Eucerin Everyday Protection for Face to a lucky reader.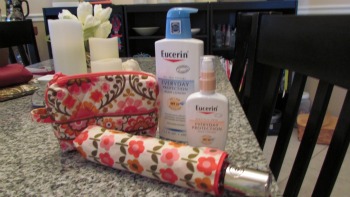 I wrote this post as a result of my association as an ambassador for Eucerin. I received product, but all opinions are my own.
GIVEAWAY
Go to the Eucerin Facebook Page and tell them how you plan to keep your skin safe or how you plan to share this important message with others during National Skin Cancer Awareness Month. Then come back and fill out the form below.
Extra entries

Click HERE to Tweet this giveaway – it auto fills your tweet and you get credit each time you twitter and report back  (unlimited entries)
Add this giveaway to other sweeps & giveaway sites – 5 extra entries
Follow Champagne Living- on the sidebar
Subscribe to Champagne Living for FREE
Link to this giveaway on your Facebook page
Follow Broad "Z" on twitter.
Grab our badge from the sidebar and add it to your site.
* Be sure to leave a comment letting me know if you've done any of these (if you already subscribe or have our badge – please note that in the comments as well).
* This giveaway is open to US residents, 18 and over and ends on May 19, 2011 11:59 EST.
* Good Luck