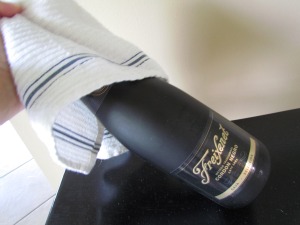 Have you ever wondered HOW to properly open a bottle of champagne or sparkling wine for that perfect POP? It's quite simple, if you just follow a few IMPORTANT rules.
Before you begin, you must remember that the champagne needs to be chilled (to about 45° F, which is what it should be when it JUST comes out of your refrigerator or wine cooler). If it's not quite cool enough, you can simply put the bottle on ice for about 20 minutes. Champagne and sparkling wine must ALWAYS, ALWAYS, ALWAYS be stored on it's side (and not shaken or jostled before opening….similar to a can of soda that you shake before opening, it will make a MESS).
1. Point the bottle away from you. Well, point the bottle away from ANYONE, and this includes dogs, cats and goldfish.
2. Prop the bottle on a table for stability.
3. Remove the foil wrapper that surrounds the neck and top of the bottle.
4. Cover the top of the bottle with a cloth napkin or small kitchen or hand towel.
5. Keeping the cork in place with one hand, remove the metal caging that surrounds the cork. You'll usually have to untwist the wire loop (like you would a twist tie). Do NOT remove your hand from the cork with this wire cage off!!!
6. Grasp the cork in one hand while taking hold of the bottle from the base.  Keep your thumb towards the inside (between the bottle and your body) and SLOWLY twist it out from under the cork. So, you're really using the bottle to untwist rather than untwisting the cork. You might hear a POP, but if you've done it PERFECTLY you should hear more of a SIGH.
7. Slowly and gently pour the champagne or sparkling wine into champagne flutes. Tilt the glass as you pour so that you don't get too  much foam.
…because, there's nothing better than a chilled glass of great champagne or sparkling wine (my favorite is Freixenet).